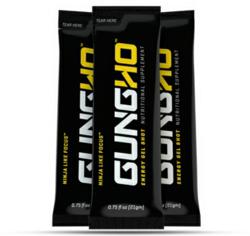 GungHo is the ONLY energy shot or drink that contains natural ingredients at proven effective doses to improve focus and concentration --Dr Renshaw, Dir, Brain Institute
Salt Lake City, UT (PRWEB) May 31, 2012
Gamers already know: Caffeinated drinks and shots may help keep you awake, but that effect comes with a cost - namely, loss of hand-eye coordination, jitters, and the inevitable "crash." Many gamers will experience even more serious symptoms of caffeine syndrome, says Dr. Dan Mowry.
Emerging from the misunderstood domain of gamer enclaves a question is being asked with growing frequency - a question that was destined to be asked by the denizens of dark rooms and bright monitors, increasingly tormented by jittery fingers, blurry eyes and caffeine-soaked brains. The Question: "Is it possible to obtain increased concentration, anti-fatigue action, reaction times and cortical enhancement without a so-called "rush" and "crash"?
The answer, according the makers of a new energy/focus gel shot for gamers – GungHo – and their fans, is most emphatically, "YES!"
In a recent review by Kristen Spencer of thatvideogameblog.com, she reported:
"GungHo might actually help you kick crank entirely, as it really seemed to work to improve my energy and focus... It took longer to feel it "kicking in" than your typical energy drink, but that's because your typical energy drink is essentially a roided-out pixie stick. Slow and steady is definitely preferable to the twitchy, jittery feeling you get from shotgunning sugar and taurine, and there's no crash waiting for you at the bottom of the can. Heck, there's not even a can!"
GungHo invites gamers to enter a "new realm" in the gaming universe, characterized by better health, better performance, and oh yeah, higher scores and increased domination.
This realm has been breached by members of the MLG (Major League Gaming), which include Ryan Bogucki (Fatalize) as well as A.J. Dhir of The Turbo Show (twitch.tv/TheTurboShow). These pro-gamers have already proclaimed their superiority through score surging, level leaping, quick and insightful puzzle solving and straight-up kickin' ass on the gaming turf. As Ms. Spencer claimed, "GungHo is the perfect product for gamers who work as hard as they play."
GungHo claims to increase levels of neurotransmitters in the brain. This benefit "only gets better over time", says Bogucki. Dr. Perry Renshaw, MD, PHD, Professor of Psychiatry at the University of Utah, and a former professor of Psychiatry at Harvard Medical School stated:
"GungHo is the ONLY energy shot or drink that contains natural ingredients at proven effective doses to improve focus and concentration. Unlike other energy products that deal with short-term energy and no lasting impact on brain energy, GungHo will actually increase levels of critical neurotransmitters in the brain over time."
More and more gamers are entering the "orbit" of the GungHo high – which, they claim, could mean higher concentration, higher memory skills, higher achievement, and higher scores.
GungHo is an energy gel shot for the brain. It was launched by Go GungHo, Inc. out of Salt Lake City, UT in early 2012. More than simple alertness, GungHo's proprietary blend of ingredients are proven to increase focus, concentration, memory storage, and memory recall, while avoiding the harsh rush, jitters, and crash common with other energy products.