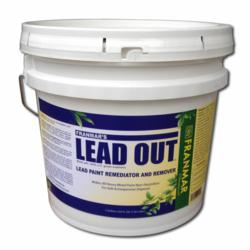 Now there is a way to get rid of lead for good.
Bloomington, IL (PRWEB) March 21, 2012
Was your home, apartment building, office, school and/or daycare center built before 1978? If so, your environment may contain toxic lead. Unless lead paint is completely removed, trace amounts can continue to be kicked up from renovations and then in turn, can be ingested and cause irreversible damage to the brain and nervous system.
Now there is a way to get rid of lead for good. Franmar Chemical has developed LEAD OUT™, a natural paint remover that renders lead paint non-hazardous for safe removal. Made with soybeans, Franmar's LEAD OUT uses a special patented Molecular Bonding System® or MBS that alters the lead compounds into a non-hazardous material.
According to General Manager Dan Brown, Franmar Chemical has been focused on the safe and economical removal of lead based paint for over a decade. One of their top products, Soy Gel™, has been a fantastic option to encapsulate the hazardous substance for easy removal. LEAD OUT goes a step further by encapsulating lead and then converting it into a non-hazardous material that can be safely and easily removed.
Brown goes on to say, "LEAD OUT is an innovation that we believe will be a blessing to the health and well-being of all those who are responsible for lead paint removal and for those who live, work and interact within structures built before 1978."
Franmar's LEAD OUT will remove multiple layers of lead paint, latex, oil paints, enamels, varnish and urethanes in one application and cleans up with water or a simple degreaser such as Franmar's Emerge™. By encapsulating lead in the gel formulation, and keeping the lead encapsulated in the gel, LEAD OUT prevents lead dust from getting into the air. Both the cleaned surface and the paint waste test 20-25% better than EPA's lead safe limits.
The product is made with 100% American Grown Soybeans, is 100% biodegradable, is non-caustic and contains no methylene chlorides. It is sold in a unique kit that contains complete instructions for product mixing, application and safe removal. LEAD OUT kits are available for purchase online and through distributors nationwide.
For more information about LEAD OUT, visit http://www.franmar.com or contact our Franmar Customer Service department at 1-800-538-5069.
About Us
Franmar Chemical develops innovative, soybean-based solutions which are effective, economical and safe. They are best known in the screen printing industry for the creation of Bean-e-doo®, a breakthrough formula that enables printers to do their work without harmful odors or health risk. Franmar offers 45 natural products that are effectively used across multiple industries including decorative concrete, remodeling, restoration, road construction, asphalt, carpet and tile removal, building maintenance, automotive, marine/boating, and hazardous waste removal (asbestos / lead).
The company is owned by the husband and wife team, Frank and Marilyn Sliney. Known for their hard work and dedication to service excellence, they have successfully operated the company together for nearly 30 years.
Franmar Chemical has worked closely with and sometimes receives research and development funds from the United Soybean Board. Its farmer members participate in the soybean checkoff program whereby they collectively invest a portion of their profits to fund soy research and promotion.
For more information about Franmar Chemical, call 1-800-538-5069, visit them online, join them on Facebook or follow them on Twitter.
About Lead
When lead gets into a child's system, it can not only damage the brain and nervous system, it can also cause behavior and learning problems, slowed growth, hearing problems and headaches. Adults can experience reproductive problems, high blood pressure, nerve disorders, memory and concentration problems, and muscle and joint pain.
There are millions of structures across the country built before 1978, including apartments, office buildings, daycares and older homes. According to statistics from the Center for Disease Control and Prevention, the U.S. has made significant progress to decrease the prevalence of lead poisoning. States such as Illinois have gone from 17.52% of kids showing high lead blood levels in 1997 to only 2.23% in 2008. While this shows that progress has certainly been made, nevertheless 2.23% means that 3000 Illinois children had high blood levels. And that's about 3000 too many.
According to public informational hubs such as leadfreekids.org, one million children today are affected by lead poisoning; but it can be 100% preventable when individuals know what to look for and what do to. For facts on lead, visit the EPA or the National Lead Center today to prevent lead poisoning.