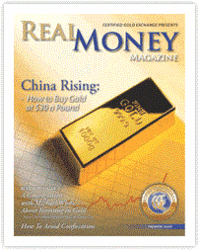 The first and only magazine dedicated solely to gold and silver investing.
Dallas, TX (PRWEB) May 29, 2012
The Certified Gold Exchange has always been an innovator in using new formats to educate the public about gold investing. With the launch of Real Money Magazine they have created a world class publication that has already received a warm reception.
"Real Money Magazine is another big step forward for us," says John Halloran, CEO of The Certified Gold Exchange. "It's the natural culmination of everything we have been doing for over 20 years."
The Certified Gold Exchange has been a consistent leader in providing precious metal investors with the information they need. The company is noted for its award-winning investment guides and online tutorials. They have taken their commitment to educating the public a step further by producing the first magazine on gold investing.
"Stock and commodity Investors are a lot more sophisticated these days," Halloran explains. "They demand the most relevant information and they want it presented in a professional, highly readable, and entertaining format. The Certified Gold Exchange staff put a lot of effort into Real Money Magazine and they are justifiably proud of what they have accomplished."
The premier issue covers everything from the increase in gold counterfeiting out of China and to how the Federal Reserve hijacked the dollar.
An annual subscription to Real Money Magazine will sell for $29 dollars, however as a national promotion the first 10,000 visitors will get a free copy at http://www.certifiedgoldexchange.com or by calling 1-800-30-0715 now.
The Certified Gold Exchange has been supplying precious metals for over two decades. Launched in 1996, the company's Household Investment division established itself as a leader in the retail gold investment market. Real Money Magazine is offered free of charge to the first 10,000 households in hard copy formats or online. Get your complimentary copy today by visiting http://www.certifiedgoldexchange.com or calling 1-800-300-0715 now.