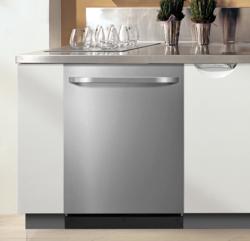 "With features like stainless steel interior and steam, Haier's line of ENERGY STAR® qualified dishwashers will be a great addition to any kitchen," said Troy Mann, Vice President Cooking, Dishwasher & Specialty Products for Haier America
New York, NY (PRWEB) July 31, 2012
Haier America, the number one appliance brand in the world*, now offers a full line of ENERGY STAR® qualified, tall tub built-in dishwashers. These attractive, full-size units compliment the style of any kitchen, custom to contemporary. The entire dishwasher line is ENERGY STAR qualified and uses dual-pump, triple filtration technology for cleaner dishes.
"With features like stainless steel interior, steam technology and improved sound packages for lower dBA levels, Haier's line of ENERGY STAR® qualified dishwashers will be a great addition to any kitchen," said Troy Mann, Vice President Cooking, Dishwasher & Specialty Products for Haier America. "With one of the most extensive warranties in the industry consumers can have extra peace of mind that we believe in the quality of our products."
The DWL7075 Series features fully integrated controls that offer a streamlined look with plenty of room for large loads of dishes, pots, and pans. The durable stainless steel interior offers incredible versatility with adjustable upper rack, multi-positional and fold-down tines, and a cup shelf with StemGuard to protect your favorite stemware. With a 14 place-setting capacity, this dishwasher is perfect for large families and people who love to entertain.
The line features stainless steel interiors a National Sanitation Foundation™ (NSF) certified sanitize rinse designed to eliminate 99.999% of food soil bacteria. Haier dishwashers have also added an Auto Wash cycle that uses soil-sensing technology to determine the optimal cycle time required, saving time and energy to reduce utility costs. This feature, along with SteamRite Technology, which aids in loosening baked-on soils, helps to produce superior cleaning results. Each unit also comes standard with Nylon Racking and a hard food disposer with triple filtration.
Why Buy ENERGY STAR Qualified Dishwashers?
Dishwashers that have earned the ENERGY STAR are on average 10% more energy efficient and 12% more water efficient than standard models. A 2011 ENERGY STAR qualified dishwasher costs, on average, less than $35 a year to run.
Some of the key features available on Haier Dishwashers include:
Steamrite Technology
Haier's SteamRite technology generates a steam bath prior to the wash cycle. Steam fills the dishwasher tub, soaking even dishes in hard-to-reach areas. The steam saturates food soils to help loosen them, improving washability and resulting in cleaner dishes. SteamRite increases the cavity temperature during pre-wash, further enhancing wash results.
EcoWash2
Haier's EcoWash2 system produces fantastic results with reduced water consumption, using 27% less water and 15% less energy than 2011 ENERGY STAR performance requirements. EcoWash2 is also compliant with 2012 ENERGY STAR requirements. Get great results for less with Haier's EcoWash2.
Quietdesign
Haier's Quietdesign sound packages suppress noise in the kitchen and rest of your home. Now you can wash dishes whenever needed, without interrupting your daily activities.
About Haier
Based in the landmark Haier Building in midtown Manhattan, Haier America is a division of the multinational Haier Group, the world's #1 major appliance brand as ranked by Euromonitor International 2011, and a global leader in consumer electronics and air conditioner systems. Haier employs more than 70,000 people around the world and distributes products in more than 165 countries and regions with global revenues reaching $23.3 billion in 2011. Haier is proud supporter of the National Parks Conservation Association. For more information, please visit http://www.haieramerica.com. You can also become a Fan of Haier America on http://www.facebook.com/Haieramerica or follow Haier America via Twitter @haieramerica.