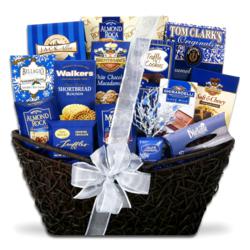 PRWEB (PRWEB) November 21, 2012
GiftBasketsPlus.com, the leading online provider of gift baskets, just announced its unique selection of gift basket options suited perfectly for Hanukkah gifts. Its Hanukkah gallery hosts themed gift baskets featuring a vast variety of kosher eats and sweets. Gift basket buyers can choose to go with the traditional blue and white theme if they like, or there are also non-traditional options for the kosher conscious as well.
The smaller line of Hanukkah gift baskets are perfect for budget conscious shoppers looking for that one of a kind gift for co-workers, classmates, and bosses. Conversely the larger line of gourmet Hanukkah gift baskets are a superb choice for unique gifts that your family and close friends will love.
GiftBasketsPlus.com has crafted their Hanukkah gift baskets to win over anyone's taste buds. The Hanukkah line encompasses many gourmet options such as Mixed Dried Fruit, Old Fashioned Peanut Brittle, Bellagio Chocolate Cream cocoa, Fairwinds French Vanilla Coffee, Alaska Smoked Salmon Fillet, Asst Chocolate Truffles, fine wines, and much more.
In addition to their Hanukkah gift baskets, GiftBasketsPlus.com also announced this week that they will be participating in Cyber Monday. Letting the anticipation build, GiftBasketsPlus.com will be releasing their special deeply discounted gift baskets coupon exclusively to fans of theirs on Facebook an hour after 11PM Sunday, (Monday at 12:00AM EST).
Giftbasketsplus.com is your one stop shop for everything gift baskets. Whether you're looking for Hanukkah gift baskets, Christmas gift baskets, or any other holiday or special occasion, GiftBasketsPlus.com has the largest online selection. For 14 years they have been providing their customers with the finest gift baskets at unbeatable prices. For more information about this year's hottest gift basket ideas, visit http://www.giftbasketsplus.com