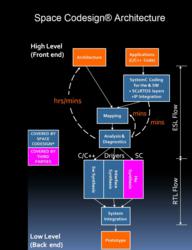 SpaceStudio is the only tool that allows embedded system designers to perform true hardware-software co-design by dragging and dropping a C function into either HW or SW implementation modules
Montreal, Qc (PRWEB) May 07, 2012
Space Codesign Systems, Inc., a leader in Hardware Software co-design technology, announced today an agreement with EDA TechForce to expand its sales and support presence in the US, primarily focusing on the western states.
Under the agreement, EDATechForce will add the SpaceStudio tool suite to its portfolio of products. This would enable EDATechForce to extend their line of Electronic Design Automation (EDA) and Semiconductor Intellectual Property (SIP) products, assisting semiconductor companies solve complex design problems and bringing chips to market faster.
"We are pleased to team up with EDATechForce to augment our sales efforts in the US market," said Guy Bois, President of Space Codesign Systems . "With their proven track record for creating new sales opportunities, we believe that EDATechForce would be our perfect sales partner." Space Codesign Systems will expand its presence leveraging EDATechForce's long-standing client relationships with many major regional and national players. Headquartered in Silicon Valley, the EDATechForce team has the technical background and the design knowledge to convey the value of Space Codesign's products.
"Our agreement with Space Codesign adds essential products to our offering and further strengthens our ability to help leading semiconductor companies realize their complex design goals," said Carl DeSalvo, President and CEO of EDATechForce. "SpaceStudio is the only tool that allows embedded system designers to perform true hardware-software co-design by dragging and dropping a C function into either HW or SW implementation modules. This would result in faster design exploration, validation and performance analysis, without the need to change any of their application code."
SpaceStudio end-to-end automation reduces the time required to perform system on a chip (SoC) design implementation in FPGA or in ASIC; it lowers development cycle time and costs, and creates better code for embedded systems. For further information about SpaceStudio suite, please do not hesitate to contact EDATechForce or Space Codesign Systems.
About Space Codesign Systems:
Founded in 2008, Space Codesign® Systems, Inc. is the developer of SpaceStudio™, the only ESL (Electronic System Level) design technology that enables end-to-end automated hardware/software co-design - from high-level functional specification to the architectural and RTL(Registered Transfer Level) coding phase. Revolutionizing HW/SW partitioning with a drag & drop approach, SpaceStudio allows system architects to move components from hardware to software and vise versa with the click of a mouse. There is no more need to recode functions for hardware or software, no need to change memory mapping, and no need to use predefined hardware.
This pioneering HW/SW co-design technology integrates smoothly with other EDA (Electronic Design Automation) tools and enables electronics engineers to enjoy a higher level of abstraction and executable representation for embedded systems design in aerospace and commercial multimedia applications.
About EDATechForce
EDATechForce, LLC specializes in providing the highest standard of sales and technical support for Electronic Design Automation (EDA), IP, and Service companies. EDATechForce offers an experienced and professional business team to companies looking to leverage growth by outsourcing and augmenting their sales channel. EDATechForce provides all elements of high-end sales management necessary to take your business to the next level.
SpaceStudio, Elix, Simtek, and Gen-X are trademarks of Space Codesign Systems, Inc. All other trademarks and tradenames are the property of their respective holders.