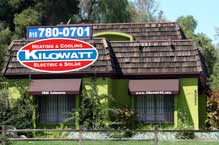 Cracks in a furnace firebox can release extremely dangerous levels of carbon monoxide and subsequently harm the occupants. We've seen it a lot of times which is why we recommend an inspection either by us or by someone else
Sherman Oaks, California (PRWEB) November 11, 2012
It is the beginning of winter which means homeowners should schedule a furnace inspection before igniting the appliance to ensure it is functioning properly. According to a research team at Kilowatt Heating, a furnace continuously expands and contracts throughout the year which is why they are prone to develop cracks that allow carbon monoxide to enter the home.
Dean Gilford, the owner of Kilowatt Heating recommends homeowners have their furnace inspected by a certified professional who is trained in the engineering of a furnace and its inner workings. Kilowatt offers furnace repair in Tarzana and maintains a stable of certified technicians which are more than qualified to perform inspections. Mr. Gilford said, "Cracks in a furnace firebox can release extremely dangerous levels of carbon monoxide and subsequently harm the occupants. We've seen it a lot of times which is why we recommend an inspection either by us or by someone else."
On Thursday, Nov 8th, NBC-New York reported the death of a woman in Long Island due to carbon monoxide poisoning. After Hurricane Sandy disrupted her power, the woman installed then operated a portable generator which emitted fatal levels of the poisonous gas into her home. She was found unconscious in her home at 10 p.m. police said.
According to Wikipedia, carbon monoxide poisoning usually occurs after a person has inhaled large amounts of carbon monoxide which is a toxic gas that's created by a heating unit or motor. The gas is tasteless, colorless and odorless, and at the outset, it doesn't irritate the nasal cavity so it is not easily detectable.
Dean said, "Because CO is odorless and otherwise undetectable to the human senses, people may not know they are being exposed until it is too late." The Journal of the American Medical Association recently reported there are approximately 2,100 unintentional deaths from carbon monoxide poisoning every year in the United States.
The good news is carbon monoxide poisoning is not always fatal. It depends on 'symptom severity' which is related to both the level of carbon monoxide that's ingested and the duration of the exposure. The initial symptoms of low to moderate CO poisoning are very similar to those of influenza, the only difference is the victim doesn't develop a fever. Symptoms include headache, shortness of breath, fatigue, dizziness and nausea.
About
Kilowatt is a licensed, insured & bonded air conditioning, heating and electrical service company. We install complete AC and furnace systems, duct work, repairs, trouble-shooting and maintenance. We service all makes and models of heaters and air conditioners and almost all electrical appliances.
Contact
Kilowatt Heating
Air Conditioning and Electric
4925 Sepulveda Blvd.
Sherman Oaks, CA 91403
Phone: (818) 780-0701
Website: http://www.kilowattac.com/