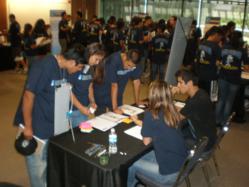 Los Angeles, CA (PRWEB) March 21, 2012
The National Financial Educators Councils' Financial EduNation Campaign now offers a comprehensive high school personal finance program for schools. The program delivers financial literacy curriculum (instructors and student guides), multimedia presentations, the Money XLive online learning center and Certified Financial Education Instructor training program. The campaign is designed to provide educators and school turnkey high school financial literacy programs.
The NFEC's Financial EduNation serves people of all ages. The recently launched program that delivers financial literacy to high school students is the second phase of the overall campaign. The high school financial literacy program was launched to address the problem's school and students are facing today. A recent report by the Huffington Post sited former New York City school's chief Joel Klein and former Secretary of State Condoleezza Rice. In referring to the education system, the report they contributed to stated, "The sad fact is that the rising tide of mediocrity is not something that belongs in history books". The NFEC feels improving the money management knowledge of students will provide an added motivation that helps students realize the importance of learning.
"Many of the high school students we train have never received any financial literacy classes before. If left uneducated on personal finance matters, we estimate they will end up like many others that are facing serious financial problems today. Taking a proactive approach to addressing their financial capability can improve the quality of their life now and in the future," states the NFEC.
Many experts on the subject suggest that providing financial literacy for students prior to them moving out on their own or entering college may help to reduce the debt problem many youth are facing today. The NFEC contends that a program delivered in high school or ideally through each year of schooling can help alleviate the debt stress many young adults are experiencing today.
The complete Financial EduNation program will provide financial literacy for high school students across the country. The financial education material branding is specific to high school-age students. The Real Money Experience, Money XLive celebrity financial education event and other resources are designed to connect with the students. The NFEC also points out their focus on technology based learning is also helpful in ensuring students can relate to the information.
The NFEC provides a variety of high school personal finance programs to assist educators and schools in improving the financial capability of their student body. The NFEC employs innovations that combine current technology trends with branding that appeal to youth to create a active learning experience that moves participants to take positive action.