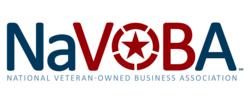 "Vetrepreneurs have a strong desire to hire their fellow veterans, and the HIRE VETERAN ® web site now makes that all possible and very efficient," said NaVOBA President Chris Hale
Pittsburgh, PA (PRWEB) October 03, 2012
In celebration of Veterans Day on Nov. 11th, the National Veteran-Owned Business Association (NaVOBA) proudly announces the launch of the HIRE VETERAN® campaign at http://www.HireVeteran.com. HIRE VETERAN® is a national movement connecting 3 million veteran-owned small and midsize businesses with returning service members seeking job opportunities in their local communities.
The HIRE VETERAN® campaign is a partnership between NaVOBA and Military Alumni®, an online resource focused on direct hiring solutions for military. Under the partnership, veteran-owned businesses can post available jobs and conduct candidate profile searches via a growing e-recruitment site at http://www.HireVeteran.com. The cutting-edge online recruitment site enables veteran business owners to specify what backgrounds and skill sets translate best to their job opportunities. Service members seeking civilian careers can then search for opportunities based on their background, preferences and desired location.
Hire Veteran® is the only national e-recruitment site that enables veterans to find jobs at companies owned by veterans.
"As a veteran and business owner, you understand the practical value that military experience brings to business," said NaVOBA President Chris Hale. "Vetrepreneurs have a strong desire to hire their fellow veterans, and the HIRE VETERAN® web site now makes that all possible and very efficient."
Between now and Veterans Day, the HIRE VETERAN® campaign is offering veteran business Owners free job postings and candidate profile searches. All features are available at no charge to service members seeking civilian careers.
"I'm a proud Army veteran and a registered member of Hire Veteran," said Brianne Phillis, a recent Army veteran who found a new career working at a veteran-owned business. "HIRE VETERAN® provides real value to service members. During my career change I was concerned about replacing the camaraderie and esprit de corps of the Army, but working at a veteran-owned business was a natural fit."
NaVOBA makes it easy to participate in HIRE VETERAN®. All veteran business owners can register their company's career opportunities for free online. To post jobs, find a local job opportunity or join the campaign, visit us at http://www.HireVeteran.com.
# # #
ABOUT NaVOBA
NaVOBA's mission is simple — to create opportunities for all of America's veteran-owned businesses. More than 3 million men and women who have defended our nation's freedoms by serving in America's armed forces have made the choice to start their own small businesses after their military service. We call them vetrepreneurs. Visit us on the web at http://www.navoba.com/aboutus.aspx and our grassroots movement linking Americans with veteran-owned businesses throughout the country at [http://www.BuyVeteran.com..
For further information or to arrange interviews contact: BP Media Relations
Barbara Pflughaupt, 212-707-8181
or Judee Cohen, 917-721-0663