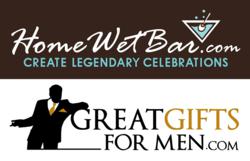 We want to help customers create an environment that is unique and memorable.
Oklahoma City, OK (PRWEB) September 26, 2012
Since 2004,HomeWetBar.com has been selling unique gifts and home entertainment products. Now, homewetbar.com and brother site, GreatGiftsForMen.com, announces an increase in their stock with over 400 new products by the end of 2012. This includes the addition of two new product lines for those who are looking to take home entertaining to the next level.
The first is a line of luxury items, which will include beverage tubs, wine and whiskey decanters, as well as authentic German beer steins that will have a personalization option for customers interested in purchasing a custom gift for a friend or family member. The second is a collection of outdoor furniture. "We want to help people create an environment that is unique and memorable for the guests they entertain at their home," says Trevor Nelson, product merchandiser. "And furniture is an important part of that environment."
Keith Winter, CEO and founder of the homewetbar family of brands, recently attended the AmericasMart gift show in Atlanta, which is "the leading international source for consumer goods," according to the show's website. "I handpick each item we sell, and I want to see the products in person," Winter says about why he attends shows like Americas Mart. "We will continue to provide customers with a wide selection of the highest-quality products."
In keeping with that statement, Winter plans on completing the addition of over 400 luxury and outdoor items for homewetbar.com and greatgiftsformen.com this fall. To search current new products, customers can go to the "what's new" page.
About the HomeWetBar.com family of brands:
HomeWetBar.com is a family-owned online retailer of quality home entertaining accessories. The Oklahoma City-based company was founded in 2004 and continues to exceed expectations in the areas of customer service, high-quality personalized merchandise and expertise in gifts for men. In 2011, GreatGiftsForMen.com was launched as a place to find unique men's gifts and a number of personalized items. Please visit HomeWetBar.com or GreatGiftsForMen.com for more information or follow them on Facebook, Twitter, or Pinterest.