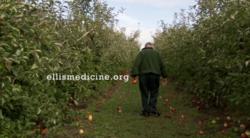 Troy, NY (PRWEB) July 05, 2012
Smith & Jones, a healthcare marketing agency, announced today its receipt of a 2012 Bronze Telly Award for the rebranding of Ellis Medicine. The Telly was awarded to the campaign's 30-second brand television spot.
The winning commercial features local patients from Ellis Medicine's cardiac, neurology, and maternity campaigns, and invites viewers to watch their stories on the hospital system's website.
Telly Award-winners are selected from more than 13,000 entries submitted each year by advertising agencies, production companies, TV stations, cable companies and interactive agencies around the world.
"Recognition from an international organization such as the Telly Awards is an honor, of course, but the opportunity to create top-quality work that helps our clients achieve their business objectives gives us our greatest satisfaction," said Mark Shipley, President and Chief Strategic Officer of Smith & Jones.
"The goal of this spot was to increase patient engagement with the hospital system's website," he explained. "Before the campaign began, the majority of visits to the site were for employment opportunities, but once people started viewing the patient videos, Ellis saw an increase in web traffic, time spent on the site, pages visited, and a decrease in bounce rate."
The 30-second video appeared on major network and cable advertising, and through video on demand (VOD). It was also featured in rich media banner advertising where the video played within the banner ad, and at the end encouraged viewers to click through to watch the patient interviews.
To learn more about Ellis Medicine and to view the winning video, please visit smithandjones.com.
About Ellis Medicine
The Ellis Medicine hospital system provides acute care for Schenectady County and a diverse community of 150,000 people located just west of the state capital in upstate New York. With more than 600 affiliated physicians and 3,300 employees, Ellis Medicine is one of the region's largest employers. Learn more at http://www.ellismedicine.org.
About Smith & Jones
Smith & Jones is an advertising and brand strategy agency based in Troy, NY, that specializes in marketing for hospital systems and large physician practices. Since its formation in 1985, the agency has been recognized by national and international advertising award organizations, including the One Show, Aster Awards and the Healthcare Marketing Awards. Learn more at http://www.smithandjones.com.