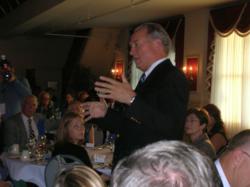 We have a job shortfall of 1.8 billion jobs
Hopewell, VA (PRWEB) September 29, 2012
We need jobs and entrepreneurs, who create jobs. That was the message delivered by Jim Clifton, Chairman and CEO of Gallup Consulting, at the 93rd Annual Dinner of the Hopewell-Prince George Chamber of Commerce last Thursday at Fort Lee, Virginia. The answer, Clifton said, lies with strong, caring local community leaders, who can rise up and win the world.
Stepping down from the podium into the audience of nearly 300 local community and business leaders, Clifton delivered the message from his book, The Coming Jobs War:
"We have a job shortfall of 1.8 billion jobs," he said. Three billion people around the world want jobs; there are only 1.2 billion real jobs in the world. Real jobs mean a paycheck from an employer for 30 or more hours of steady work a week. Lack of a good job can be the breeding ground of political unrest.
Our current world dominance comes from our wealth as a nation, said Clifton. As of 2010, the world's Gross Domestic Product (GDP) was $60 trillion - the total sales for all the countries in the world. "The United States is 25% of that. We have $15 trillion; everybody else has $45 trillion." That wealth has given us bargaining power.
However, our economic growth is slowing. If we don't create new jobs and increase our GDP over the next 30 years, America will lose its world dominance, probably to China, whose GDP is growing at a rate of 10% per year, while ours is growing at less than 2 % per year.
Clifton predicted that if the Unites States economy continues its slow growth, "this whole country will look like Detroit!" Our GDP needs to increase at 4% per year to maintain our competitive position.
Whatever Detroit has done would be on the list of things not to do. He suggested that we look to the cities that are thriving and do what they are doing. An example of a city to emulate is Austin, TX; one that is similar to Austin although not thriving is Albany, NY.
While Clifton's predictions were gloomy, his outlook was positive. The answer to re-energizing our economy is entrepreneurship, which Clifton described as the horse pulling the cart of innovation. "This country has invented everything for the last 100, 200 years," he said. "But innovation has no value whatever until a customer is standing next to it.... You've got nothing until you throw it out to the entrepreneurs."
Developing and encouraging local entrepreneurs is Clifton's challenge to America's cities, including the Hopewell-Prince George area of Virginia.
About the Hopewell-Prince George Area:
Hopewell-Prince George is located 20 miles south of Richmond, VA. and is situated on 35 miles of historic riverfront on the Appomattox and James Rivers. With a relaxed pace of life and strong economic development, the region offers true work/life balance to the 59,000 people who call Hopewell-Prince George home.
Chosen as the site of the prestigious Commonwealth Center of Advanced Manufacturing, a research partnership that brings together best-in-class manufacturing with Virginia's flagship research institutions, including Virginia Tech, the University of Virginia and Virginia State University, Hopewell-Prince George is positioned for future growth and investment. For more information about the Hopewell-Prince George area, visit http://www.hpgchamber.org.