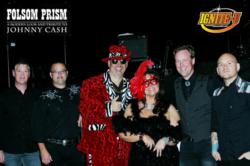 Over 1100 people were in attendance to enjoy the music, food and do a little shopping.
Tacoma, WA (PRWEB) September 19, 2012
On September 13th those who attended the Ignite-U event at the event in North Tacoma couldn't help but be HOOPLA-ized when they walked into the Showroom at the Emerald Queen Casino. Nearly 100 local businesses were in attendance showcasing their wares. The attendees raved about the entertainment from a local Johnny Cash tribute band 'Folsom Prism' as fantastic and the Emerald Queen Casino catering department served a spread for all to enjoy.. Over 1100 people were in attendance to enjoy the music, food and do a little shopping.
Throughout this six hour event, the event hosts and founders of Ignite-U, Kieran and Sherri Murry, were seen in costume "pimpin their peeps". The couple did multiple costume changes. The crowds favorite included Kieran Murry dressed up as a "Pimp Daddy" strutting his stuff with his "lady of the evening" wife, Sherri Murry, on his arm.
When asked why they were so personally involved within the event itself, the couple's response was simple…"Without our sponsors and vendors, Ignite-U doesn't happen. They contribute financially to these events and we want to take every opportunity to make sure they know how much we appreciate them". Attendees were known to have come from Pierce, Thurston, Kitsap, Mason, and King Counties where they enjoyed the music, networking, food and shopping..
"What a great event…we had a blast and it was by far the best networking event I have ever seen!!" comments Denise Ingertilla of Valpak of Western Washington.
Ignite-U is an event series that started in 2011 and features top notch speakers with topics ranging from motivation, inspiration, leadership and character development to technology and how-to's in business. "Each event has it's own special flair", says Murry, always wanting a fresh feel for attendees with each event they attend.
The Ignite-U Hoopla will continue to be a signature event each year with an estimated time period being each spring starting in 2013.
The final Ignite-U event for 2012 is coming up on October 6, 9am – 5pm at the Greater Tacoma Convention & Trade Center. This is what they call, "Ignite-U, The Main Event".
The Murry's report that the the "Main Event on October 6th will house five phenomenal speakers which include, Ronnie Doss, Thach Nguyen, Ona Brown, Chris Pirillo, and Michael Clouse. This powerful line up is sure to bring the house down during this full day Saturday event." Attendance to the Main Event is expected to be approximately 1500 people. There will be approximately 100 vendor tables for those who would love to enjoy some pre-holiday shopping.
For more information regarding this event series, check out the website at http://www.ignite-u.com or contact Sherri Murry at 253-312-9301.