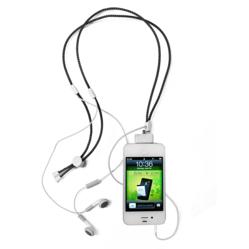 The iHangy™ necklace and keychain include a high-sensitivity stylus while the music necklace comes with color-coordinated earbuds for the music aficionado. Now, available at Bed Bath and Beyond and Amazon.com
Dallas, Texas (PRWEB) November 06, 2012
Apple® devotees who break out into a sweat over the idea of dropping, misplacing or losing their must-have iPhone® or iPod® will find peace of mind in an iHangy™ necklace or keychain. Designed specifically to keep iPhones® and iPods® securely attached to the body while allowing hands-free versatility, iHangy™ comes in three variations. The iHangy™ necklace and keychain include a high-sensitivity stylus while the music necklace comes with color-coordinated earbuds for the music aficionado. Now, just in time for holiday gift-giving, iHangy™ is available for purchase at all Bed Bath & Beyond retail stores and online at Amazon.com.
According to a recent Duracell toy report, the top three most wanted holiday gifts were all Apple® products. The iPhone® snagged the top spot while the iPod® Touch and the iPad® rounded out the top three. Indeed, 27 percent of all respondents most wanted either an iPhone® or an iPod®.
Gift buyers who are on too limited of a budget to give the real deal but know their recipient will have their Apple® wish fulfilled can still score big in the satisfaction department with an affordable yet sure-to-please iPhone®/iPod® accessory like iHangy™. Best of all, thanks to a recent retail arrangements with Bed Bath & Beyond and Amazon, they won't have to fight the electronics crowds to score one.
For more information on how to please an iPhone®/iPod® lover this holiday season without spending a fortune, visit iHangy™ online at http://www.ihangy.com.To learn more the iHangy™ necklace/keychain with stylus and the iHangy music necklace™, contact OnTrion's Palki Kochar.
###
CONTACT INFORMATION:
Palki Kochar
13650, TI Blvd., Suite #309
Dallas, TX 75243
(972)497-9933
http://www.ontrion.com