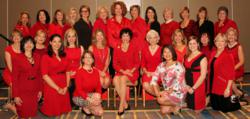 McLean, VA (PRWEB) November 30, 2012
In three hours, the third annual "In The Bag" silent auction of designer purses raised $92,000 to benefit the American Red Cross of the National Capital Region. A committee of 38 women, chaired by Brenda Blisk, CEO of The Blisk Financial Group and Founder of "In The Bag," raised the $92,000 net at a lunchtime event, held at the Hilton McLean earlier on November 2.
Each year, Blisk's committee collects and auctions off designer purses to help fund the vital services provided by the Red Cross to the Metro Washington community. The event sold 148 high-end purses with brand names such as Louis Vuitton, Chanel, Jimmy Choo, Lanvin, Michael Kors and many more. The crowd of 225 (223 women and two men) attended this year's luncheon and auction.
Blisk welcomed the attendees to the event and stated what was not widely known about the American Red Cross: they supply 40% of the nation's blood supply, receive no Federal money, and meet two planes of wounded soldiers at Andrews Air Force Base weekly. She introduced this year's featured speaker retired Major Heather Penney, the first woman in the DC National Guard to fly the F-16 Viper.
This year, the American Red Cross of the National Capital Region responded to:

3,200 military families
429 local disasters
885 families, providing emergency food, shelter and supplies
In total, 230,000 people in the Metro DC area were served.
Maj. Heather Penney and Dr. Jolanda Janczewski gave keynote speeches during the luncheon. Major Penney, a third-generation pilot, was one of two pilots protecting our nation's capital in response to the 9/11 terrorist attacks. Dr. Janczewski is Chairman of the Board of Consolidated Safety Services-Dynamac Corporation whose father made his way out of a Nazi Concentration Camp to the USA because of the Red Cross.
Linda Mathes, CEO of the American Red Cross of the National Capital Region thanked the corporate sponsors including Blisk Financial Group, Capital One, Bubbles, Baker Tilly, CSS-Dynamac, ReedSmith, Wills Companies, Nelson Mullins, Light House Healthcare Inc., EDJ Associates, and Lane McVicker & ACE Group.
To learn more about this annual event, visit http://www.redcrosspurses.com.