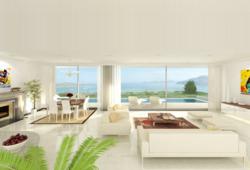 The conditions that led to bubbles in Spain and Florida are simply not present in Turkey.
(PRWEB UK) 20 December 2012
According to the latest global property report by Knight Frank, property in Turkey ranked third in terms of price growth bucking the trend in most of the rest of Europe which saw prices fall. Property prices in Istanbul having risen more than 11% in the past 12 months.
Loxley McKenzie, Managing Director of Colordarcy.com commented, "Bubbles are common occurrence in property markets, however since dramatic property market collapses in Spain and Florida, the mere mention of the word strikes terror into investors and political leaders.
Fortunately there doesn't appear to be anything like a property bubble forming in Turkey at the moment because the conditions that led to bubbles in Spain and Florida are simply not present in Turkey."
According to Colordarcy analysts, Turkey is booming because all the evidence like the recent global house price index tells us it is.
It is not so easy to detect a bubble because investors would need to look into the future to see it coming. The only time anyone can see that a bubble has occurred is at the point when it bursts.
A housing bubble is formed when there is high demand for property that has been created by artificial means. This can often be when a central bank lowers interest rates and encourages people to borrow more money.
Turkey is experiencing an increase in consumer borrowing and more people are buying on credit which might hint at the prospect of a bubble. The crucial difference between Turkey and countries like Spain and others in Western Europe, however, is that mortgage interest rates remain high at between 9-12%.
It is unlikely that widespread credit booms will occur at interest levels that are this high. According to Colordarcy analysts, borrowing to invest in property is also not nearly as popular among the people that live in Turkey's towns and cities as it is elsewhere in Europe.
Another sign of the long term viability of Turkey's property market is the decision by one major cement pump maker, Putzmeister, to shift investment away from Italy and Spain and into Turkey instead.
This goes some way to indicating the potential for further growth in the construction sector in Turkey.
Turkey's economic growth is also continuing to outpace most other countries in Europe as it benefits from a strategic position close to wealthy Gulf states.
McKenzie added, "There will of course be a market correction at some point in the future, just as there will be in any property market, this is perfectly normal. However, in Turkey, this is unlikely to be anything as like as dramatic as the bubbles that have been bursting across Europe since 2008."
Notes to the editor:
Colordarcy is a leading property investment company that specialises in finding positive cash flow investment properties worldwide. Colordarcy investment property portfolio includes some of the best properties for sale in Brazil, Florida, Turkey and the United Kingdom.
For more information, supporting pictures or logo artwork, please contact:
Brett Tudor
PR Manager
Tel: +44 (0) 207 100 2393
Email: press(at)colordarcy(dot)com
Web: http://www.colordarcy.com/