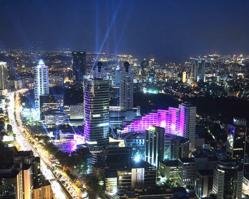 I make no secret that I am attracted to the eastern promise of Istanbul and while London still offers great returns for investors, I expect Istanbul to outperform it and offer a more exciting opportunity in 2012
(PRWEB UK) 16 March 2012
Loxley McKenzie, MD of Colordarcy.com said "I make no secret that I am attracted to the eastern promise of Istanbul and while London still offers great returns for investors, I expect Istanbul to outperform it and offer a more exciting opportunity in 2012."
Despite expecting Istanbul to outperform London in 2012, Analysts at Colordarcy.com are quick to point out that London has performed exceptionally well for rental growth, with rents rising 27% since 2009 (Source: Knight Frank)
Colordarcy analysts believe that this rise in rents was driven by demand outpacing supply and a tightening of mortgage lending post 2008 which prevented anyone with less than a 5-star credit rating and a huge deposit getting a mortgage in the UK.
London property has proved itself to be a safe haven for investors in times of trouble, however, there are signs that rental growth is beginning to slow. Third and fourth quarter figures from 2011 showed that the breaks were well and truly on with successive figures of 0.6% and -0.1% indicating a slowdown. (Source: Knight Frank)
There comes a point in any market where supply begins to catch up with demand. A host of new residential completions in the capital are giving tenants more choice than they have had since 2009. Suddenly we find that tenants are in the driving seat in some areas of London and this is beginning to have an effect on rents.
London property has also seen a surge in foreign investment from those looking to cash in on the excellent rental potential of properties in London. This has seen prices in the UK capital actually rising through 2011 while the majority of the UK saw price declines.
The increases are to a large extent driven by competition amongst foreign investors who were seeking a safe haven during the worst of the crisis. This effect has also been seen in other European capitals like Paris.
However, net yields on prime property in central London are currently around the 5.5% mark, while property prices have risen by just under 3% in 2011 (Source: FT). As property prices increase then these average yields will be driven down by more expensive properties and static rents.
If this figure is compared to the current net yield in Istanbul of 8.5% this already looks far more appealing from a cash-flow point of view.
Prices are also less than half what they are in London, even in prime areas, so the near 15% rise in property prices in 2011 look set to be repeated or even bettered in 2012 when competition for property heats up.
The lifting of the reciprocity rule, will trigger a flood of investors from additional countries when they are granted purchasing rights.
Comparing London directly with Istanbul, Colordarcy analysts say we can expect London to move sideways in 2012 with rental growth fairly static. Istanbul property on the other hand is likely to see another surge in value driven by foreign investment.
The young increasingly affluent population will not have the means to buy as prices rise out of reach which will help keep rental demand high.
Notes to the editor:
Colordarcy is a leading property investment company that specialises in finding positive cash flow investment properties worldwide. Colordarcy investment property portfolio includes some of the best properties for sale in Atlanta, Brazil, Florida, Turkey and the United Kingdom.
For more information, supporting pictures or logo artwork, please contact:
Steve Billing
PR Manager
Tel: +44 (0) 207 100 2393
Email: press(at)colordarcy(dot)com