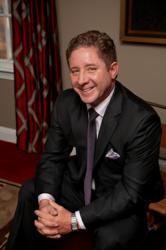 Todd Corley, Sr. VP & Global Chief Diversity Officer of Abercrombie & Fitch, says "Jim's personal commitment to diversity leadership is unparalleled and is evidenced in his life's work."
Atlanta, GA (PRWEB) September 27, 2012
James W. Lewis, President of the National Society of High School Scholars (NSHSS), has been selected by the World Diversity Leadership Council to receive the 2012 Diversity CHAMPIONS Award. He will be recognized during the awards ceremony at the World Diversity Leadership Summit on October 2, 2012, 1:45pm-2:30pm., at the Edward Jones global headquarters in St. Louis, Missouri.
This award is presented to Mr. Lewis and NSHSS for his leadership and significant accomplishments in diversity and inclusion in the U.S. and internationally. The award selection body is the World Diversity Leadership Council, a peer group of respected Fortune 1000 corporate executives.
Todd Corley, Senior Vice President & Global Chief Diversity Officer of Abercrombie & Fitch, an NSHSS corporate sponsor, says "Jim's personal commitment to diversity leadership is unparalleled and is evidenced in his life's work to provide students with resources to excel academically and professionally. This is a wonderful achievement for both Jim and NSHSS, which celebrates its 10th anniversary this year."
Launched in 2004, the World Diversity Leadership Summit has become a high-profile forum for address-ing the challenges and opportunities related to global diversity management. The 2012 conference will be attended by more than 300 senior global executives, from over 100 of the world's leading corporations.
NSHSS, an international honors organization founded by Mr. Lewis and Claes Nobel, senior member of the family that established the Nobel Prizes, has participated in the WLDC Summit for the past four years, presenting workshops with panels of diverse millennial scholars. NSHSS will present a panel dis-cussion at this year's Summit with millennial leaders from Harvard University, Fordham University, Johns Hopkins University, the University of Texas at Austin, and JP Morgan Chase, exploring ways that diverse generations can work together and optimize young talent. NSHSS will present results at the Summit of its annual millennial Career Survey during the workshop.
Mr. Lewis has also received the 2012 Phoenix Award from Atlanta Mayor Kasim Reed, in appreciation for outstanding contributions to the City of Atlanta and its citizens. To learn more about James W. Lewis you may read more about him on http://www.nshss.org/about/james-lewis.
About The National Society of High School Scholars (NSHSS)
NSHSS was established to highlight the accomplishments of high school and college students who have demonstrated outstanding leadership, scholarship, and community commitment, as well as to foster their continued success. NSHSS has inducted over 800,000 diverse members from over 160 countries. NSHSS provides a wide array of member benefits that prepare students for both college and careers. For more information visit, http://www.nshss.org.
World Diversity Leadership Summit (WDLS)
For more information on the WDLS Summit, visit http://www.wdlsummit.com.