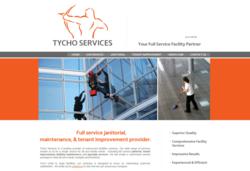 I highly recommend Tycho Services. I've been using them for a couple years now and I won't let anyone else clean my offices
Los Angeles, CA (PRWEB) November 05, 2012
The chief executive officer of Tycho Services, a Los Angeles based janitorial services provider, today announced the launch of a new corporate website. The website lists the company's services in great detail and it's loaded with just enough pictures to make it interesting and enjoyable to visit and read the company's messages.
In addition to janitorial services, the company offers construction cleaning and other services such as drywall installation, painting, electrical systems installations and flooring. Tycho Services maintains a stable of flooring professionals which are experts at wood floors, carpeting and many different kinds of tile floors.
One of the principals at the company said, "We specialize in janitorial services but we're also more than capable at helping our clients with flooring and electrical issues. Our goal is to be a one-stop-shop when it comes to running and maintaining a building." Business owners and managers are encouraged to visit the website to learn more about the company or request a free quote for building maintenance or construction work.
"I highly recommend Tycho Services. I've been using them for a couple years now and I won't let anyone else clean my offices. I've had plenty of businesses come in here and tell me that they will charge me 25% less, but I've used those services before and they are more of a headache than anything else. If you want the best, call Tycho." – Jody Graves
Tycho provides services for corporate headquarters, biotech buildings, production and manufacturing facilities, government offices and public facilities and high tech office buildings. The company also maintains a team which specializes in healthcare and specialty facilities which are required to provide proper waste disposal documentation on a regular schedule.
The company's chief executive officer said, "From our wide range of facilities services and "At Your Service" attitude, our customized service packages will be designed just for you and your facility's needs." Each client's building is a little different than the next so Tycho prepares packages that are uniquely suited for special requirements. A client may request straightforward janitorial services, fully licensed building maintenance or day porter services to cover employee vacations.
About
Tycho Services is a leading provider of outsourced facilities services. Our wide range of services enable us to be a single source for all your facility needs - including full service janitorial, tenant improvement, building maintenance, and specialty services. We will create a customized service package to meet all your needs, budgets and timelines. From small to large facilities, our company is designed to focus on maximizing customer satisfaction. We invite you to contact us to see how we can assist your company.
Contact
Tycho Services
4405 Riverside Drive
Suite 105
Burbank, CA 91505
Phone: (818) 840-9404
Website: http://janitorialservices-losangeles.com/