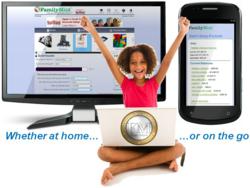 Los Angeles, CA (PRWEB) March 15, 2012
Annually the National Financial Educators Council (NFEC) presents its Best Practices in Financial Education Awards to recognize individuals and organizations that provide personal finance products or services aligned with the NFEC mission, educational philosophy, sustainable business model, and dedication to raising awareness about the financial literacy movement. This year's award was presented to the FamilyMint kids financial education software, recognizing FamilyMint's contribution in the Software Category.
Organizations that are chosen to receive the Best Practices Award share common mission statements with the National Financial Educators Council objective to create a world where people are informed and able to make qualified financial decisions that improve their lives while benefiting communities around the world.
"The FamilyMint software program stood out among others because it provides hands-on learning and opens up communication between parents and kids about money matters," states Vince Shorb, CMO of the NFEC. "We also liked that the FamilyMint program was designed to facilitate collaboration between financial planners, schools, financial institutions, and others who want to improve the financial wellbeing of their communities."
"FamilyMint is highly honored to receive the Best Practices in Financial Education Award from the National Financial Educators Council," said Bob Masterson, FamilyMint President. According to a survey by The Hartford Financial Services Group, nearly 3 out of every 4 parents acknowledge being their children's primary source of personal finance education, and almost half admit to needing more guidance on how best to teach their children the skills to become successful, financially responsible adults. FamilyMint exists to help parents play this vital role within their family structures.
FamilyMint has been recognized for offering the easiest way to provide a financial literacy for kids system that shows them how to manage their money and achieve their goals. It's an award-winning money management application where kids learn by doing. The product is described as the modern replacement for the piggy bank—changing kids' attitudes from "I want this" to "I'm saving for this." FamilyMint has received feedback that their program helps kids feel powerful and self-confident by putting them in the driver's seat. The application provides a platform where kids can easily manage all their money and goals in one place. Parents act as bankers to guide their children's spending, motivate them to save by providing interest and matching deposits, and simplify their lives using an automated allowance feature.
Launched in 2010, FamilyMint has helped thousands of families raise money-smart kids by changing the way kids manage and view their money. "Parents are consistently seeing a shift in their children's thinking from the desire to spend to a curiosity and excitement about saving," says Jeff Eusebio, CEO of FamilyMint. In 2011, FamilyMint began partnering with credit unions and financial planners who were looking for more interactive methods to educate and engage both children and parents.
The NFEC is a social enterprise organization whose stated mission is to improve financial capability among the world's citizens. Through collaborative efforts with leaders in the financial education field, the NFEC aims to increase access to products and services that represent best practices in financial education. The NFEC chose the FamilyMint kids' financial education program to receive the Best Practices in Financial Education Award in the kids financial education software category.