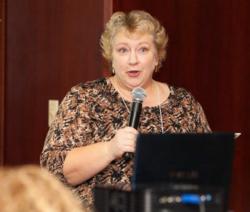 Entrepreneurs will do things 'normal' people have enough sense to avoid.
Springfield, VA (PRWEB) March 13, 2012
Executive Coach Kim Lysik Di Santi, founder and president of Total Strategy, will speak at the lunch meeting of Networking Executive Women (NEW) on Tuesday, March 27. Her subject: "Entrepreneurs are Crazy People. I Should Know!"
The lunch meeting will take place at the Springfield Golf & Country Club, 8301 Old Keene Mill Road, Springfield, VA.
Di Santi will tell the story of starting her executive coaching business:
"Many people think that Entrepreneurs are crazy people! We have lots of ideas. We follow our dreams. Sometimes we succeed and sometimes we don't," Lysik Di Santi wrote in her column which appears on FoxBusiness.
"Entrepreneurs will do things 'normal' people have enough sense to avoid. We jump in where "angels fear to tread!" Entrepreneurs will take a job with 100 percent commission because of the potential pay-off. I did that for four years as a sales rep. Then I started my own business, which was even riskier."
About Kim Lysik Di Santi
Di Santi is a successful entrepreneur and solopreneur, who celebrated the twelfth anniversary of her coaching business last fall. Working from her home in Reston, she works with clients around the country. She is a former columnist for Women Entrerpeneur.com (which has become the Women's Center on Entrepreneur.com), where her columns, "The Mother Lode," appeared monthly for 15 months.
"Eighty-one percent of women-owned firms are solopreneurs and 79 percent of women-owned firms make less than $50,000," says Di Santi. "I see these firms as untapped potential and hope to show how they can increase their sales and their success."
Di Santi started her own business after spending 19 years in sales and marketing. She held management positions at the Newspaper Advertising Bureau and served as sales director at Washington Post-Newsweek Interactive. A graduate of Coach University, Di Santi is an authority on the administration and analysis of behavioral assessments. She is a certified professional behavioral analyst and a certified professional values analyst. She works with small business owners, entrepreneurs, executives and sales professionals to help them increase their revenue. About 70 percent of Kim's clients are women.
Registration for the event is available online at http://www.networkingexecutivewomen.com/