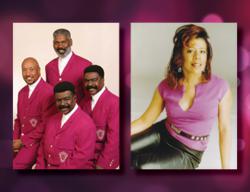 The annual KISS FM concert is traditionally a real mom-pleaser and you can gift mom with tickets when you celebrate Mother's Day with her on the Sunday before the show...
New York, NY (PRWEB) March 20, 2012
98.7 KISS FM and Marquee Concerts present a special Mother's Day themed show at New York City's Beacon Theatre at 8pm on May 19, 2012, the Saturday following Mother's Day. The classic R&B shows have become an annual tradition.
This year's concert features a double bill with the classic R&B quintet, The Whispers, plus Motown songwriter/hit-maker//performer Valerie Simpson who returns to the stage after the 2011 passing of her husband and musical partner, Nick Ashford. The evening will include a special tribute to Nick with video and song.
"We're pleased to welcome back the iconic group The Whispers and are honored to have the talented Valerie Simpson join us for this special Mother's Day themed concert," notes Bill Zafiros, co-founder of Marquee Concerts, producers of the show. "The annual KISS FM concert is traditionally a real mom-pleaser and you can gift mom with tickets when you celebrate Mother's Day with her on the Sunday before the show," he adds.
A veteran R&B group with an impressive legacy of hits, The Whispers celebrate more than five decades of beautiful, enduring music. As one of R&B music's most beloved and consistently popular vocal groups, they began their legendary career in 1963, producing a string of hits over the course of 40+ years, including "And the Beat Goes On," "Rock Steady," and "It's a Love Thing," among others. The quintet emerged as the leading romantic singers of their generation, racking up one gold album after another and charting numerous R&B hits spanning more than 3-dozen albums.
A driving force in songwriting with her late husband Nick Ashford, Valerie Simpson has a rich history of penning hits for many notable artists. Ashford & Simpson wrote for performers including Chuck Jackson and Ray Charles before joining Motown's production staff where they created hits for many of the label's top acts, among them "You're All I Need to Get By" by Marvin Gaye and Tammi Terrell, "Ain't No Mountain High Enough" by Diana Ross, and "I'm Every Woman" by Chaka Khan. The performing duo scored a first soul hit of their own in 1973 and amassed a string of smash hits, including 1984's "Solid," their first R&B chart-topper.
Tickets for the Mother's Day Concert featuring The Whispers and Valerie Simpson are on sale now at http://www.ticketmaster.com or by phone at (800) 745-3000. Tickets are also available at all Ticketmaster outlets and the Radio City, Madison Square Garden and Beacon Theatre box offices.
For more details about the Saturday, May 19th show, visit http://www.marqueeconcerts.com.
About KISS FM
98.7 KISS FM (WRKS FM), the Best Variety of Classic Soul and Today's R&B, has been serving the tri-state area of New York, New Jersey and Connecticut for over 30 years. KISS FM is the home of the nationally syndicated shows, "The Tom Joyner Morning Show" and "The Michael Baisden Show" and is New York's premier source for legendary and contemporary R&B music and culture. For more information on 98.7 KISS FM, please visit http://www.987KISSFM.com.
About Marquee Concerts
Marquee Concerts, one of the premier concert promoters in the Northeast, produces hundreds of events across all spectrums and genres. Marquee is constantly researching new music trends, recognizing today's up-and-coming entertainers, and expanding upon existing business relationships to put on the best shows possible and remain a competitive mainstay in the concert promoter's industry. Learn more at http://www.marqueeconcerts.com.
###