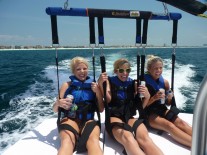 Jet Ski Rentals Starting at Only $75 Per Hour this Labor Day Weekend!
Destin, Florida (PRWEB) August 25, 2012
TripShock.com advises families and friends to advantage of the Florida sunshine this Labor Day Weekend with a spontaneous Destin vacation getaway.
TripShock.com has a large variety of hotels and beachfront condos for those last minute vacationers this Labor Day Weekend. Hotels starting at only $114 Per Night and Beautiful High Rise Condos starting at Only $125 Per Night.
For a full Destin vacation experience, try a Destin Snorkeling Excursion, snorkeling the beautiful emerald green waters of Destin, Florida and starting at only $24.99 per child. After a captivating experience under the water, explore the top of it with hourly Jet Ski Rentals starting at only $75 per hour.
To wrap up a fun filled day on the gulf coast, endure a beautiful and captivating birds eye view of Destin with Destin Parasailing Adventures. Only $45 per person.
For a full detailed listing of all the activities, attractions and hotel discounts offered this Labor Day Weekend, please visit TripShock.com today.
About TripShock.com
TripShock! ® is the one and only online travel agency in the Northern Gulf Coast that enables travelers to book tours and activities directly. TripShock! offers trusted reviews from real travelers, photos, videos and other planning tools to help create the perfect Gulf Coast vacation. TripShock! attracts more than 500,000 visitors annually and partners with over 100 activity and lodging providers from Florida to Louisiana