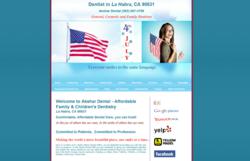 I have been to many dentists in the United States and South America. Dr. Shah is a very caring dentist who has careful hands. Dr. Shah's office is very clean and comfortable and his staff are very friendly. Last but not least, his fees are very affordable
La Habra, CA (PRWEB) July 12, 2012
Executives at Unique web Consulting and Akshar Dental, a cosmetic and family dentistry clinic in La Habra, California, today announced the firm's website will turn two years old on July 13, 2012. The clinic first launched its website on July 13, 2010 and it has grown and developed into an informational resource center for patients and consumers who are performing research on dental procedures.
It won't be a surprise if the office staff at the dentist La Habra is caught celebrating the clinic's website turning two years old. The website is an important part of the dental practice and a lot of time and effort has been consumed to make it the information powerhouse which it is today. Patients can use the website to schedule an appointment or to view how-to videos on flossing, understanding tooth sensitivity and how to handle soft tissue injuries.
"I have been to many dentists in the United States and South America. Dr. Shah is a very caring dentist who has careful hands. Dr. Shah's office is very clean and comfortable and his staff are very friendly. Last but not least, his fees are very affordable." - Alix Pinzon, Loan Officer, La Habra
The website is also packed with hundreds of helpful and informative articles such as how to cure canker sores to how to prevent cavities in children. Consumers who are performing research can quickly find topics that are of interest to them simply by going down the A to Z list to find an article on the subject. The website is updated on a regular schedule in order to maintain the consistency of quality information and to help consumers with as much information as possible.
Consumers who are considering dental treatment of any kind are encouraged to visit the Akshar Dental website to learn more about the clinic and its services. The clinic serves La Habra and the surrounding areas and it is short drive from almost anywhere in the city which is a plus for people who have a dental emergency.
About
Dr. Jatin Shah has been practicing for over 25 years. He graduated from the Government Dental College & Hospital, Bombay in 1982. Dr. Shah took the California Dental Board exam and has been practicing in Los Angeles, California since 2003. In 2007, Dr. Shah decided to open the office here in La Habra, CA where he lives with his family.
Contact
Akshar Dental
1281 East La Habra Blvd
Suite 4
La Habra, CA 90631
Web: http://akshardental.com/