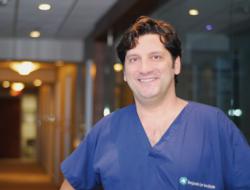 I did my research and proud of my decision. Dr. Benjamin is not only a true professional, but also a caring and honest person
Los Angeles, California (PRWEB) August 08, 2012
Executives at Unique Web Consulting, a web development firm, today announced the release of several videos promoting the Benjamin Eye Institute. The videos include a PBS broadcast in which Los Angeles LASIK surgeon, Dr. Arthur Benjamin, discusses the latest innovations in ophthalmology including LASIK, cataract surgery and glaucoma treatments.
In another video which aired on KTLA, the Los Angeles cataract surgeon discusses advances in vision correction for people who require both distance and close-up eye sight adjustments so they can see without eye glasses. The videos are part of the Benjamin Eye Institute's overall mission to provide as much information for patients so they can make an informed decision on which procedure would be best for their unique situation.
The firm's website hosts a number of helpful articles and guides which can also help patients learn about the popular LASIK procedure. One of the doctors at the Benjamin Eye Institute said, "We tried to make the website into a useful learning tool, however there is no substitute for being examined and consulted by a doctor so we're always available to talk to people who have questions."
"I did my research and proud of my decision. Dr. Benjamin is not only a true professional, but also a caring and honest person. " - Leisha Hailey, Actress
Los Angeles Lasik surgery has helped thousands of people see better with a simple operation that's cost effective and life enhancing. Many people who undergo Lasik treatment report that they are able to see a lot better than before they required eye glasses. Others say it is almost a miracle.
Consumers who are interested in learning more about LASIK, cataract surgery and glaucoma treatments are encouraged to visit the Benjamin Eye Institute's website. The website hosts a form that can be used to book an appointment online as well as patient forms and a virtual tour of the facility.
About
The Benjamin Eye Institute is a world class comprehensive ophthalmology practice with an emphasis on refractive and premium cataract care located in West Hollywood, California. Our modern office is equipped with all the diagnostic and treatment technology that's needed to deliver state of the art eye care, and includes our own in-office climate controlled LASIK suite.
Contact
Benjamin Eye Institute
9201 West Sunset Blvd, Ste 709
West Hollywood, CA 90069
Phone: (310) 275-5533
Web: http://benjamineye.com/