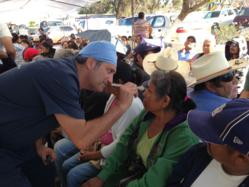 There was so much satisfaction in helping those people.
Los Angeles, CA (PRWEB) October 30, 2012
A media representative for Dr. Arthur Benjamin, a Los Angeles Lasik surgeon at the Benjamin Eye Institute, today announced the doctor's humanitarian trip to Mexico was a huge success. Dr. Benjamin was accompanied by a team of other kind and gentle health care professionals each of which helped poor Mexican consumers with operations to improve their eyesight.
The Los Angeles laser eye center sent Dr. Benjamin to Mexico to spend three days examining patients and performing procedures that improved the quality of life for Mexican consumers who cannot afford eye care. Many of the patients were extremely happy as they were able to see clearly within a matter of hours after being treated by the American doctors.
The first day in Mexico began at 6 a.m. and by the time the doctors from the Benjamin Eye Institute arrived at the clinic a handful of patients were already waiting. The doctor's support staff and volunteers took pictures of the event and since many of the patients were of Indian descent, they declined to be photographed up close. Dr. Benjamin said, "There was so much satisfaction in helping those people."
It is a belief which was respected while all the patients were treated with dignity and respect. The Indians who declined to have their picture taken were pleasant individuals who understood others wanted to memorialize and document the event for future reference.
The miracle of life occurred on the first day of operations. While the Lasik surgeons were preparing for their first surgery, a baby was born in the clinic and the birth helped improve the mood of the participants and to create an aura of peace and happiness that permeated the entire clinic. It seemed like everyone was smiling and it set the tone for rest of event which lasted a short three days.
About
The Benjamin Eye Institute is a world class comprehensive ophthalmology practice with an emphasis on refractive and premium cataract care located in West Hollywood, California. Our modern office is equipped with all the diagnostic and treatment technology that's needed to deliver state of the art eye care, and includes our own in-office climate controlled LASIK suite.
Contact
Benjamin Eye Institute
9201 West Sunset Blvd, Ste 709,
West Hollywood, CA 90069
Phone: (310) 275-5533
Web: http://benjamineye.com