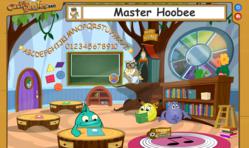 A virtual world where they can watch entertaining child appropriate animations, play and explore is the perfect tool for learning another language.
Vancouver, British Columbia (PRWEB) December 31, 2011
The Combination of an online language program and the magic and excitement of Cackleberries characters and animation provides for the first of its kind in virtual education for young children learning English. This virtual classroom is build intuitively for young learners to be able to click, learn and play on their own. The animated lessons are used in combination with exercises to reinforce the learning.
"There are few entertaining educational tools for very young learners on the market," says Eronne Foster CEO of Cackleberrries Entertainment. "Young children are natural language learners. They pick up a new language easily without conscious learning, unlike adolescents and adults. A virtual world where they can watch entertaining child appropriate animations, play and explore is the perfect tool for learning another language."
Currently the Cackleberries English Language Program teaches an English curriculum for children ages 3 to 7 through a three year program consisting of one hundred lessons per year. When students complete a lesson and successfully masters the corresponding exercises, the classroom door opens and they have access to full english immersion in the world of Oville. This living cartoon emulates the real world in every aspect. The citizens are innocent, enchanting characters each with their own home. There are community buildings, rivers, lakes, mountains and meadows. Exploring Oville with a custom avatar offers many real world experiences including meeting characters who converse in English. A reading bar provides audio and printed words to help the player learn new vocabulary.
Parents in most countries now realize that English is a necessary language to give their children a competitive advantage in the future. The Chinese government recently refered to English as a survival skill. Parents want to help their children develop these skills and know that the sooner they start the better. Cackleberries realized the necessity of learning English at an early age when they developed their English Language Program. "We wanted to provide an affordable age-appropriate resource that helps all children learn English through play-like activities," says Eronne Foster.
"Learning English at a young age is cognitively as easy as learning a first language," she explains. "A child's brain processes multiple languages in parallel paths, building an English language system alongside the first. Launching a high-tech Internet based program that teaches English to young children and prepares them for the new Global economy creates a scenario where everyone wins."
Cackleberries English Language Program first launched in China is July 2011. It is now available online for schools and families worldwide.
About Cackleberries
Cackleberries Entertainment is a children's edutainment (entertainment and education) company offering a website, animation, toys, games, music and more. Most importantly Cackleberries introduces young children, three to seven, to the future of education with a dedication to keeping children safe. Cackleberries protects children from the internet with the latest technology, provides family friendly content, and never advertises to children. Children can play for free in the safest online world for young children.
###