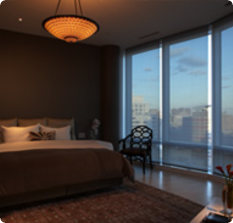 We at Powerfull Systems take great pride in what we do and what we can offer. We help people save money on their electric bill while beautifying their home at the same time
Los Angeles, California (PRWEB) August 19, 2012
Executives at Powerfull Systems, a provider of light control systems, today announced the company hired Unique Web Consulting to help with their online marketing efforts. Powerfull Systems has been in business for close to 15 years. The company provides lighting and window shading system solutions that save money by reducing the amount of electricity that's consumed by a home or office.
Powerfull Systems is a dealer of Lutron Los Angeles, a company that manufactures lighting control and window shading systems. Lutron offers hands-free automated window shading systems, dimmers and lighting control systems which are all designed to lower a building's energy consumption. The company's products can be installed in homes and offices which can include an entire office building or separate units.
In 2010 Powerfull Systems received an honor reward and the company was nominated as a Hall of Fame residential system provider. One of the principals at the company said, "We at Powerfull Systems take great pride in what we do and what we can offer. We help people save money on their electric bill while beautifying their home at the same time."
The best thing about Powerfull Systems innovate technology is they are able to control and automate a home's energy consumption by installing 'room sensors' which detect whether or not a room is occupied. When a room is vacant, the system automatically shuts off the lights and if it's programmed, it will also lower the window shades to protect the home's interior from the sun's rays.
In addition to lighting control and beautiful shading systems, Powerfull Systems offers the eMonitor total energy management system. The eMonitor system empowers people with complete home control. Homeowners are able to monitor and regulate the energy that's used in their home directly through the system's interface. EMonitor instantly turns any home into a 'smart home' and offers powerful monitoring capabilities and reports which indicate which room inside a home uses the most electricity and which room uses the least.
About
Powerfull Systems is the elite provider of light control systems, motorized window treatments and energy management systems in Southern California. Our services are flexible and vary depending on the job requirements and application. We are able to consult, design, provide, install, program and integrate a variety of lighting and shading systems.
Contact
Powerfull Systems
12568 W. Washington Blvd., Ste 100
Los Angeles, CA 90066
Phone: (310) 836-9333