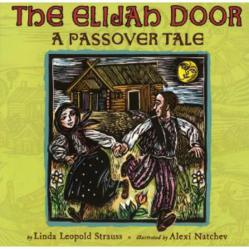 A lovely story about maintaining peace and the importance of community for young people.
Cincinnati, OH (PRWEB) March 13, 2012
Award-winning children's author Linda Leopold Strauss's latest picture book, "The Elijah Door: A Passover Tale" (Holiday House, 2012), has been released just in time for Passover. An original folk tale set in "a village that was sometimes Poland and sometimes Russia," the book is illustrated with stunning hand-painted woodcuts by Alexi Natchev. Suggested for ages 4 – 8-years old, it is the story of young David Lippa and Rachel Galinsky, whose families are feuding, but who, with the help of their neighbors and the town rabbi, devise a scheme to bring their two families together to once again celebrate Passover at the same festive table. Strauss's ninth book for children, "The Elijah Door: A Passover Tale" lists for $16.95 and is available at Amazon.com and independent and major bookstore retailers across the country.
Publisher's Weekly wrote, "The Galinskys and the Lippas have been neighbors and friends for generations, but a small bartering disagreement has sundered that friendship. Young Rachel Galinsky and David Lippa have always known they would marry, but now that fairy tale ending seems impossible. As Passover approaches and the families refuse to share the holiday meals as they always have, the two children realize that the time has come to enlist the aid of their wise rabbi who quickly implements a plan to help bring peace to the Seder table. Natchev's artwork—created by carving an image into wood and linoleum plates, inking the image with a roller, printing it by hand, then hand-coloring with watercolors—does a magnificent job of bringing this Jewish Romeo and Juliet fable to life."
A graduate of Vassar College and Columbia University, Strauss began her writing career more than thirty years ago. She has previously published eight books for children and stories in numerous children's magazines (including Cricket, Spider, Ladybug, Hopscotch, Astrapi and School). Books include "Preschool Day Hooray!" (Scholastic/Cartwheel, 2010), "Drop Everything and Write!" (E&E Publishing, 2010), "The Princess Gown" (Houghton-Mifflin, 2008), and "A Fairy Called Hilary" (Holiday House, 1999). Her work includes fiction and non-fiction for a wide variety of ages and has been translated into French, Italian, Swedish and German. The mother of two grown daughters and grandmother of two, the author lives with her husband, William Strauss, in Wyoming, Ohio. She regularly visits schools and libraries to engage with young readers and has taught writing to students from kindergarten-age to adults. More information about her work is available at http://www.lindaleopoldstrauss.com.
Illustrator Alexi Natchev was born and educated in Sofia, Bulgaria. A graduate of the National Academy of Fine Arts in Sofia, his work has been shown in many international exhibits and biennials, and he has received a number of national and international awards. Since moving to the US in 1990, he has published more than fifteen children's books with major American publishers. Currently he is the Illustration Area Coordinator at Delaware College of Art and Design in Wilmington.
More reviews of "The Elijah Door: A Passover Tale"…
…a lovely story about maintaining peace and the importance of community for young people."
– Southwest Ohio & Neighboring Libraries (SWON)
Children's author Connie Nordhielm Wooldridge wrote, "Long ago, in a small village that was 'sometimes Poland and sometimes Russia,' the Lippas and the Galinskys lived in 'side-by-side houses.' They were fast friends whose children, Rachel Galinsky and David Lippa, would someday marry. Until the incident involving the two fat geese and the six laying hens (it's complicated...don't ask!) turned them into arch enemies. Enter the rabbi who, along with Rachel and David and the entire village, hatches a plot that brings the two families back together over a very long Seder table. Seder supper details ('tracking down crumbs' and, of course the Elijah door) are neatly tucked into this warm, rollicking plot illustrated with folksy prints hand carved on wood and linoleum blocks. Best of all, the book has arrived just in time for Passover!"
"Such a beautiful book. It stirred so many memories of mine…about the long table at my grandparents' home. A table that stretched from the living room, through the dining room, through the pantry, up to the kitchen door, and seated God knows how many Rozens. And of course there was always room for more."

Janet Rozen, New Haven, Connecticut
"The Elijah Door: A Passover Tale"
By Linda Leopold Strauss
Illustrated by Alexi Natchev
Published by Holiday House (March 2012)
Picture Book: Ages 4-8
$16.95 (US)
ISBN 978-0-8234-1911-1