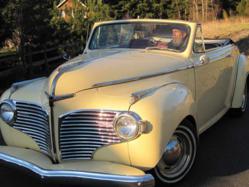 Bellingham, WA (PRWEB) April 19, 2012
A man restoring life, glory, and spirit to an aging, abandoned automobile isn't unusual. In newly published "The Dodge: Guts, Glory, and Living at Full-Throttle," though, it is almost mystical how one 1941 Dodge D-19 Luxury Liner convertible snagged Mike's 17-year-old's heart and is still in his life sixty years later, filling a remarkable role, through decades of his learning how to live well with Parkinson's disease. Meet Eduard Alden "Mike" Mikkelsen, an award-winning potter, sculptor, lifelong auto collector and restoration enthusiast, his wife Anne Cutter Mikkelsen, and "The Dodge" herself, at Village Books in Fairhaven, WA, on Sunday, April 22, 2012 at 2 p.m.
Mike and Anne, a French trained chef, former restaurateur, Master Gardener, writer, and carepartner, collaborated on this new memoir, anchored to the storied restoration of this automobile with a Jaguar engine, but faithful to her original paint color. Mike is so enamored of all things classic auto, he is one of the faithful original subscribers to Hemmings Motor News, the bible of auto-philes, since its first issue in 1954. (In fact, he sleeps with the current issue of Hemmings.)
Anne also is the author of "Take Charge of Parkinson's Disease: Dynamic Lifestyle Changes to Put You in the Driver's Seat," which shares how the couple has learned to live vibrantly with PD, through brain healthy nutrition, exercise, healthy coping skills, and enlightened caregiving. "Take Charge" features more than 80 of Anne's original recipes that combine anti-oxidant, anti-inflammatory, nutrient-rich ingredients, and culinary herbs and spices known to favorably impact the brain. The Dodge, as well, has added a powerful ingredient to the couple's "Quality of Life" recipe.
Both books share valuable messages about the loss of control that underscores PD and other neurodegenerative diseases. Anne and Mike espouse making the most of what we can control – how we choose to think about our circumstances and what we bring to our relationships.
"The Dodge: Guts, Glory, and Living at Full-Throttle"
By Anne Cutter Mikkelsen and Eduard Alden Mikkelsen
Book Signing Sunday, April 22, 2012 2PM
Village Books in Fairhaven, Bellingham, WA
Non-fiction, 264 pages
Paperback ISBN 978-0-983198222; ebook ISBN 978-0-983198215
Willow Island Press (2012)
Village Books in Fairhaven
1200 11th Street
Bellingham, WA 98225
360-671-2626
800-392-BOOK
"Take Charge of Parkinson's Disease: Dynamic Lifestye Changes to Put You in the Driver's Seat"
Named to "Top 20" List of Small Press Titles Most in Demand from Libraries and Bookstores (Library Journal, March 1, 2012).
By Anne Cutter Mikkelsen and Carolyn Stinson
ISBN 13: 978-0-9823219-3-5
A DiaMedica Publishing Guide to Optimum Wellness (2011)