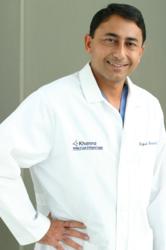 "Knowlege and skill overcome fear."
Beverly Hills, Ca (PRWEB) March 29, 2012
Phobias and fears prevent many people from seeking LASIK surgery and experiencing the clarity of vision they deserve. Internationally acclaimed LASIK expert and owner of the Khanna Institute of LASIK and Refractive Surgery, Dr. Rajesh Khanna, believes gaining superior eyesight should be painless and caters to those with anxiety and fear. He's improved the vision of some of the most well-known celebrities, athletes and musicians in the world.
"Are you afraid of someone touching your eyes?" asked Khanna. "Has fear kept you in the bondage of irritating contact lenses or those of archaic glasses? You are not alone. Fear of LASIK eye surgery has prevented a whole generation from enjoying the visual liberty they deserve."
Khanna understands the fear and misgivings of patients and utilizes numbing eye drops, local blocks, state-of-the-art technology and the establishment of a comfort zone to insure patients are calm, comfortable and pain free. A leader and pioneer in LASIK procedures, Khanna is recognized as one of the preeminent vision care specialists in the world and is responsible for developing many of the tools and techniques that have become industry standards.
Khanna provides clients with a variety of vision services, customized to meet their individual needs. LASIK surgery with Wavefront technology provides clients with an unsurpassed level of accuracy to help them achieve 20/20 vision or better. For eye conditions that don't lend themselves to LASIK surgery, blade and flap free SuperLASIK procedures are offered.
Those above 50 years of age with myopia and hyperopia can choose refractive lens exchange surgery, a non-laser procedure that utilizes ReSTOR lenses and eliminates the need for future cataract surgery. Patients who already suffer with cataracts have access to Crystalens HD technology that enhances visual function and reduces dependency on eyeglasses. Clients who aren't good candidates for LASIK surgery and want to loose the reading glasses can select a PRELEX procedure to prevent cataracts and enhance vision.
Voted Best LASIK Surgeon in 2009 by the Los Angeles Daily News, he also received the Ventura County Star's Reader Choice Award four years in a row. Featured in showcase Newsweek in Oct. 2011, Khanna maintains an informative blog and offers website visitors an online LASIK self-evaluation.
The Khanna Institute maintains two locations in California for patient convenience. One is located at 240 S. La Cienega Blvd., #250 in Beverly Hills and the second is at 179 Auburn Court #1 in Westlake Village.
Bright, modern facilities, innovative technology and Khanna's expertise as a world-class LASIK vision specialist puts patients at ease and insures a pain-free experience. Khanna believes everyone deserves the best eyesight possible and is dedicated to repairing, restoring and enhancing the vision of clients with techniques that cater to those with fears and phobias. He specializes in painless vision treatments and has pioneered the methods to accomplishment that goal. He utilizes his skills to minimize risk, reduce recovery times and provide patients with the crystal clear vision they deserve.
Khanna can be reached by phone at 1-877-2-KHANNA or via email with the convenient form on the website. For more information, visit the website at http://www.khannainstitute.com.