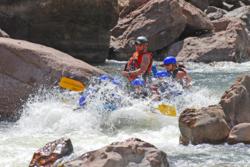 Families don't have to wait until July to get on class three sections and thrill-seekers can raft class five all summer as opposed to only late in the season
(PRWEB) May 31, 2012
River Runners, a whitewater rafting company in Colorado with locations in Buena Vista and Canon City, reported a 26 percent increase in business compared to 2011 – a record snowpack and business-level year – through May 31, 2012.
Kevin Meadows, co-owner of River Runners, attributes this spike in business to warm weather and moderate water flows, which he said most people are more comfortable with than high water.
"Last year everyone was concerned that the water was too high even though it was still at runnable levels," Meadows explained. "Now everyone is concerned the water is too low, which simply is not the case. We have been rafting for about seven weeks and people are having a blast."
Meadows said the below average water level has actually opened more sections of river to a larger demographic of people compared with high water years.
"Families don't have to wait until July to get on class three sections and thrill-seekers can raft class five all summer as opposed to only late in the season," Meadows said. "Thanks to good reservoir storage and a voluntary flow management program, we expect fun and splashy rafting on the Arkansas River through Labor Day."
Travis Hochard, operations manager at River Runners, agreed that the rafting has been fun and that he remains optimistic for the 2012 rafting season.
"While some rivers in Colorado will suffer from a short season, the Arkansas River should remain at runnable flows through August," Hochard explained. "We are fortunate to have reservoirs on two major tributaries up river (Clear Creek of the Arkansas and Lake Creek) so we are not dependent on native flows alone."
Hochard said that the lower water creates a fun and unique challenge on the advanced sections and offers a less intimidating family rafting adventure on intermediate sections.
"The advanced rafting trips require technical maneuvering down steep channels, chutes and drops. You will get wet and your adrenaline will be flowing," Hochard said. "The intermediate and beginner rafting trips still offer fun, splashy rapids, but with less consequences."
According to Hochard, River Runners had guided 1,298 people down the Arkansas River in Colorado as of May 31, 2012 (compared to 1,026 people for the same date in 2011). He said just under 25,000 people rafted with River Runners in 2011.
River Runners is still offering preseason rafting discounts. Arkansas River full-day rafting trips are buy-one, get-one half-off on advanced bookings through June 15.
River Runners will celebrate 40 years of whitewater rafting on the Arkansas River in 2012. The Certified Colorado River Outfitter offers fully-guided rafting trips on beginner, intermediate and advanced whitewater sections of the Arkansas River every day now through Labor Day. To learn more about half-day, full-day and overnight rafting adventures with River Runners log on to http://www.whitewater.net or call 1-800-723-8987.