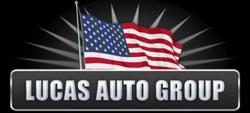 We're changing the way people think about midsize cars.
Burlington, NJ (PRWEB) October 19, 2012
Lucas Ford of Burlington, NJ, is looking toward swift sales of the outgoing 2012 "Best in Show" winner in an effort to gear up for the new 2013 Fusion's arrival. After garnering the award at the North American International Auto Show in Detroit earlier this year, Ford deemed the Fusion's success a "rare win for a midsize sedan" amongst the competition. Lucas Ford is offering consumers looking for a used Ford in Burlington, NJ or a new Ford in Burlington NJ the opportunity to come in and test drive a new Ford Fusion in Burlington, NJ to see for themselves just why this phenomenal midsize sedan has won so much attention in hopes of making room for the 2013 model year.
For years Ford has made an effort to stay on the cutting edge of consumer trends with the philosophy that, "As consumer demand for smaller vehicles increases, we need to provide the vehicles people want, and provide them profitably, in order to remain a sustainable business. We're changing the way people think about midsize cars. We started this journey in 2006 with an all-new Ford Fusion that was designed to win market share from popular Japanese midsize sedans. In the years since, we have continued to improve the Fusion, adding a hybrid model that is bringing more new buyers to the brand than any other Ford vehicle," Ford Motor Company.
Lucas has seen the demands for these smaller vehicles rise in recent years and welcomes the advancements that Ford's made in this particular class of automobiles which are currently breathing life back into the market. Ford went on to further state, "The 2013 model year Ford Fusion demonstrates our globalized approach to make all forms of the vehicle on the same assembly lines. This gives us the ability to make what customers want, and to make them affordably, too. Moreover, the new Fusion epitomizes our new globalized platform by giving our customers the power of choice: It's the first sedan to offer the full range of fuel-efficient EcoBoost® engines, hybrid and plug-in hybrid choices – each with leading fuel efficiency."
Automobile consumers in the greater South Jersey and Philadelphia, PA, area who prefer to do their shopping via the Internet are encouraged to visit their state-of-the-art website designed by First in Results SEO Marketing to tour their vast inventory of new and used vehicles today.