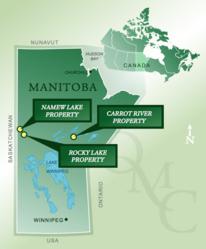 The results have confirmed the presence of massive sulphide mineralization, with visible chalcopyrite
Vancouver, Canada (PRWEB) August 24, 2012
Quantum Minerals Corp. ("QMC" or the "Company") is extremely excited about its diverse portfolio of exploration projects in Canada. With a substantial land package of VMS-hosting properties in the Carrot River and Flin Flon / Snow Lake districts of Manitoba—one of the largest and most prolific VMS regions in the world—the Company is well-placed to benefit from the ongoing demand for base and precious metals, as well as rare earths.
With the recent acquisition of a high-potential Manitoba mining property in British Columbia, QMC is actively pursuing future projects, while further developing its current assets. Looking back at 2011, they are confident that 2012 will continue to deliver increased shareholder value.
Having commenced early phase exploration for its Manitoba properties in 2011, QMC recently announced the completion of 2,449 metres of drilling on the Rocky Lake massive sulphide (Rocky Lake and Rocky-Namew) projects in the Flin Flon district (News Release: June 20, 2012). The results have confirmed the presence of massive sulphide mineralization, with visible chalcopyrite on the main Rocky Lake target. Results also confirm the presence of this mineralization on 3 of 4 additional drill targets from Geotech's air-borne VTEM survey. The 2,142 line kilometres of Geotech's survey plus the Time Domain survey have led to the recommendation of 25 drill-hole locations in 13 distinct areas and the identification of 6 additional areas with recommendations for 16 drill holes.
With both the Namew Lake and Rocky Lake Projects totaling more than 40,000 hectares within close proximity to established mines in a proven VMS district, they are very excited to further explore each property in the months ahead.
In British Columbia, QMC entered into an option agreement with Mackenzie Minerals Ltd., whereby QMC can acquire an undivided 100% right, title and interest in the Mugaha Property (News Release: February 27, 2012). The Mugaha Property contains 12 MTO claims aggregating 5,502 hectares and is located 15 km north of Mackenzie, which provides excellent access to infrastructure.
After several years of regional and geochemical exploration, gold mineralization was discovered on the property in 2006, with values ranging from less than 1 g/t Au over 1 metre to 139 g/t Au over 1 metre. The property shares similarities with other well-known deposits, such as Muruntau in Uzbekistan (80 million oz) and Sukhoy Log in Russia (20 million oz). In the coming months, QMC plans to pursue more systematic trench sampling to determine mineralization over widths.
In 2012, QMC also further diversified its portfolio with the acquisition of the Cinder Lake rare earth elements (REE) Property in North-Central Manitoba (News Release: February 14, 2012). The 5,000 hectare property is marked with REE-enriched intrusive rocks. Its size, tectonic setting and geography are similar to the Maoniuping complex in China, which is the second largest REE deposit in the world. QMC is planning to carry out an exploration program based on recent recommendations that will include airborne geophysical surveys, sampling and drilling.
With 2011 showcasing a successful initial phase, QMC is now focusing on delivering value through the ongoing exploration of a diverse portfolio. QMC anticipates great potential in the 100% owned Manitoba mining projects Rocky Lake and Namew Lake, having confirmed the reinterpretation of the conductor discovered by Hud Bay at Rocky Lake with visible Chalcopyrite and adding to the discoveries by drilling the additional targets. QMC has approximately 40 of these targets; they have struck VMS mineralization on three of four and thus expect great results as exploration continues.
The nearby Carrot River Project will also include further exploration to test the identified mineralization. And for the Company's newly acquired REE and gold projects in Manitoba and British Columbia, they will conduct extensive early-stage exploration to determine the potential at hand. At the Mugaha Property in BC, QMC expects excellent trenching results in the coming weeks and they are looking forward to the work program in the late summer and early fall.
The technical content of this news release has been reviewed and approved by Mohan R. Vulimiri, M.Sc., P.Geo, who is a qualified person under the NI 43-101 guidelines and a Director of the Company.
The TSX Venture Exchange has not reviewed and does not accept the responsibility for the adequacy or accuracy of this news release.
This press release contains certain forward looking statements which involve known and unknown risks, delays and uncertainties not under the Company's control which may cause actual results, performances or achievements of the Company to be materially different from the results, performances or expectations implied by these forward looking statements. This news release does not constitute an offer to sell or a solicitation of an offer to buy any of the securities in the United States.