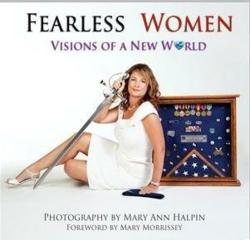 This book captures and chronicles the important stories of fearless women across the globe who are working to make the world a better place.
Los Angeles, CA (PRWEB) March 07, 2012
As people around the world gather to celebrate International Women's Day, Mary Ann Halpin will be excitedly awaiting the galleys of her latest book, Fearless Women, Visions of a New World. The coffee table book contains photographic portraits of 50 extraordinary women across the globe, captured by her lens.
The book is the culmination of a yearlong project to find and photograph women across the globe who are creating a vision for a new and better world. Representing a new, futuristic open canvas, each Fearless Woman selected for the book was photographed wearing white against a white background and holding an object that symbolizes what she is doing to help create a new and better world. Each is a visionary and change maker in her own way. All are working to make a difference and share work centered on renewal, peace and harmony.
Halpin found inspiration for the project in remarks made by the Dalai Lama, who said that the world will be saved by the western woman. "As the world undergoes the kinds of major shifts we are experiencing right now, I see more and more women feeling called upon to do something bigger than themselves and responding in amazing ways," said Halpin. "This book captures and chronicles the important stories of fearless women across the globe who are working to make the world a better place. I feel proud and honored to have had the opportunity to spend time with them."
Halpin will celebrate International Women's Day on a global conference call with a fearless women from her books. In stunning photographic portraits with accompanying text, Halpin shines her spotlight on women like:
-- Linda Gray, respected actress, activist and former United Nations Goodwill Ambassador (1997- 2007) – working with the charity organization Force for Good to build a school in Malawi, Africa
-- Karen R. Mertes, Lt. Col. (Ret.), United States Air Force, President & Founder, Fulfill Your Destiny, Inc. (and cover girl for the new book, Fearless Women, Visions of a New World) – working to help people whose life paths have been permanently altered through traumatic events
-- Katie Meyler, Founder, More Than Me Foundation – working to get little girls off the streets and into school in Liberia, West Africa.
Fearless Women, Visions of a New World is Halpin's fourth book. Her work has been acclaimed for revealing everything from the glamorous beauty of Hollywood and the exquisite glow of pregnancy, to the heartbreaking despair of Skid Row. Through much of her 25 year career, she has turned her camera on women and their issues, photographing hundreds of women, families and celebrities. Her earlier books include Fearless Women~Fearless Wisdom (released in 2010 in conjunction with the 90th anniversary of the 19th amendment which gave women the right to vote) and Fearless Women: Midlife Portraits (featuring celebrities such as Joni Mitchell, Cybill Shepherd and Erin Brokovitch in compelling black and white portraits as they approached aging with passion and fearlessness). Her first book, Pregnant Goddesshood: A Celebration of Life, received national attention for images of pregnant women, considered controversial at the time, creating the first maternity portraits now so popular with expectant mothers. Images from Pregnant Goddesshood have been featured in LIFE Magazine.
About the Book
Fearless Women, Visions of a New World is scheduled for release on May 18th in Los Angeles when Halpin will launch an international book tour with stops across the U.S. and Canada and culminating in a summit in Uganda in November. The book and events will support A Billion Fearless Women, the sister charity of Fearless Women Global, whose mission is to bring a billion women together globally to generate and support projects that create a more compassionate, equitable and healthy world. The group's first global project is "Miracle Village" in Ki-Mombasa, Uganda, a project to build educational and health care facilities for women and children living in extreme poverty and fear.
About Mary Ann Halpin
Mary Ann Halpin is the founder of Mary Ann Halpin Photography, which specializes in fine art portraits for families, maternity, babies, and children. A noted photographer and published author, she facilitates Fearless Women Retreats in the mountains above Los Angeles and in Bali. She has appeared on television shows such as The View, Inside Edition, Extra! and A Baby Story and was featured as a mentor on the hit reality series Starting Over. For samples of her work or to pre-order her latest book, visit http://fearlesswomenglobal.com or http://www.maryannhalpin.com.
Press Contact: Mary Ann Halpin, 323-874-8500, maryann(at)fearlesswomenglobal(dot).com