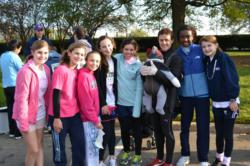 OWINGS MILLS, MD (PRWEB) October 16, 2012
For the 15th year in a row, Garrison Forest School (GFS) students, faculty, staff and parents are "racing for a breast cancer cure" in the Susan G. Komen Race for the Cure on October 21 in Hunt Valley, Maryland. Team GFS is a race "leader" in several ways:
•Team members include elite runner David Berdan, GFS science teacher and overall winner of the past three Komen Hunt valley 5Ks. David hopes to make the 2012 Race for the Cure his fourth consecutive win. While certainly not the longest race for this seasoned marathoner, the Komen event holds special meaning. "Breast cancer is very close to my family," explains David, who also coaches the school's varsity cross-country team. "My wife's maternal grandmother died of breast cancer, and her paternal grandmother just finished a year of treatment and currently is cancer free." In addition, a close family friend and mother with three children under age four recently completed treatment. Last fall, David led the 2011 Baltimore Running Festival for the first 11 miles; his 10th place finish is the highest finish of all Marylanders who have run in the Baltimore Marathon since its inception. David is training to qualify for the 2016 Olympic trials.
•On October 21, while hundreds of thousands of people are racing, walking and supporting breast cancer research in Hunt Valley, a team of GFS Upper School students will be making sure that Race for the Cure is environmentally-conscious. Senior and GFS Service League board member Kamber Parker volunteered a team of GFS students to participate in the event's recycling efforts. Throughout the morning, they will be collecting recyclables and trash and moving it to the recycling area. This is a reprisal of the volunteer leadership role GFS played in 2010 when Meredith Good-Cohn '11 (now a pre-med major at the University of Maryland) led GFS and Baltimore's Student Coalition for Sharing (BSCS) in recycling 2.18 tons of plastic and paper in the first-ever BSCS "Pink Goes Green Recycling Initiative" at the Hunt Valley Komen event.
•To date, Garrison Forest is leading in team rankings for the Hunt Valley event with the largest number of members of any corporate, group, school or non-profit team. Led by alumna parent Stacey Gegor Scrivner '95, and a dedicated team of GFS Parent Association volunteers, to date, Team GFS is closing in on its 400-member goal and has surpassed its $15,000 fund-raising goal.
•Garrison Forest's commitment to the cause includes Komen events across the region. For the past eight years, GFS parent and son of a breast-cancer survivor, Dr. Mark Sorrentino, has been the medical director for all Washington D.C. Komen events. A pediatric critical care physician with expertise in medical planning for large events and disasters, Dr. Sorrentino leads the 50-member medical team for the three-day Komen event, October 12-14, 2012. This year, daughter Gabi, a 9th grade student at GFS, will join the team as Komen's first-ever youth volunteer member of a medical team for any of its three-day events. She is a three-year volunteer veteran of the Global Race for the Cure, held in June at the National Mall with 50,000-plus participants from around the world. Because of this experience, she was selected as the first youth medical team volunteer for this weekend's D.C. Komen event.
To learn more about Team GFS, visit http://www.gfs.org/raceforthecure or contact Sarah Achenbach, Director of GFS Communications, to arrange interviews on race day. Team GFS will have a tent in the area at the corner of Shawan and McCormick Roads.