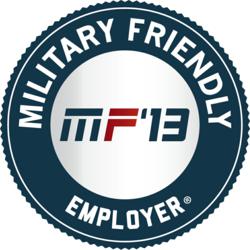 "Using the survey data, we created the Military Friendly Employers® designation outside of the Top 100 to recognize another 1 percent of companies that have great programs and opportunities for veterans and spouses, " said Sean Collins, V.P. Victory Media
Pittsburgh, PA (PRWEB) December 10, 2012
Service members and spouses can now start and complete their job hunt with one free resource, thanks to the addition of thousands of jobs on MilitaryFriendly.com. Employers and jobs on the site are exclusive to companies who earned the 2013 Military Friendly Employers® designation via an annual data-driven survey and stringent methodology administered by Victory Media, publisher of G.I. Jobs. Criteria included a benchmark score across key programs and policies such as the strength of company military recruiting efforts, the percentage of new hires with prior military service, retention programs, and company policies on National Guard and Reserve service.
"MilitaryFriendly.com is a tremendous resource because it gives service members and spouses a prescreened list of employers and filters the jobs specifically to those positions which are a fit for military," said William Offutt, Former Special Asst. U.S. Dept. of Labor VETS. "Employers and job opportunities on the site can also be sorted by personal preferences and geographic location, ensuring a good match between the job seeker and hiring company. It's a win-win for service members and employers who are serious about hiring military."
Job seekers can view company profiles, including open job positions that are a fit for military personnel, and apply free directly from MilitaryFriendly.com. Using the priority data engine, job seekers can also design their own custom lists of employers according to their preferences. Custom, user-directed lists can then be saved and shared socially, allowing each job seeker to find their unique #1 Military Friendly Employer® from a premier group of over 150 companies.
"Due to the fierce competition for our Top 100 list, many great programs narrowly missed this year's list simply because interest and participation in hiring military is at an all-time high," said Sean Collins, vice president for Victory Media and director for G.I. Jobs. "So using the survey data, we created the Military Friendly Employers® designation outside of the Top 100 to recognize another 1 percent of companies that have great programs and opportunities for veterans and spouses."
Company profiles and jobs from the Top 100 Military Friendly Employers®, as well as those companies that earned the Military Friendly Employers® designation, can be found online at MilitaryFriendly.com
About Victory Media:
Victory Media, publisher of G.I. Jobs, is a service-disabled, veteran-owned small business and has been serving the military community since 2001. Our Military Friendly® lists and methodology can be found at http://www.MilitaryFriendly.com. Our data-driven lists are published in G.I. Jobs, Military Spouse, Vetrepreneur magazines, republished in periodicals like USA Today, Wall Street Journal and are frequently cited on national TV programs such as CNN, CNBC, NBC, Fox News and others.
You can follow Military Friendly on Facebook at http://www.facebook.com/MilitaryFriendly or on Twitter @Mil_Friendly
For further information on G.I. Jobs or the Military Friendly Employers® survey, or to arrange interviews, contact:
BP Media Relations, LLC
Barbara Pflughaupt (212) 707-8181 or Judee Cohen (917) 721-0663