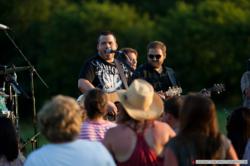 Atlanta, GA (PRWEB) May 26, 2012
Global Maximus Records along with Country Music's 'BadHorse' pay tribute to the troops stationed around the world today by releasing the annual "My Little Man" music video.
The single released to radio in 2011 made it to #1 on New Music Weekly charts, one of three, and into the twenties on Music Row charts. The single is a favored Military tribute song the band plans to re-release every year in honor of the troops.
The artists send their sincere thank you to all the troops that make peace here at home possible. It is never a good time to be at war, this video is for those serving away from loved ones to remind us all of everyone's sacrifice. Especially those little ones who may not understand mom or dad's plight in serving us all.
The group is gearing up for their next single release, "Then Again" a heart felt ballad that maximizes Adam Grants talents as a vocalist. That is making all 'BadHorse' fans excited about the next radio release. The group is also planning a tour this summer to support the single "Then Again".
For more information about 'BadHorse' go to http://www.badhorsemusic.com or http://www.musicatgmr.com