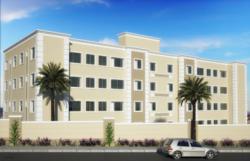 In my opinion this is seriously exciting investment with some serious returns for those who invest in these types of projects. You also get to make a difference to people's lives and profit at the same time
(PRWEB UK) 17 May 2012
'Minha Casa, Minha Vida' or 'My house, My life' is part of a similar government drive in Brazil to provide the opportunity for people to own their own home at a reasonable cost they can afford.
Brazil's middle class represents the majority of the population for the first time in the country's history (Source: Brazil Government statistics) – thanks to a period of exceptional growth in the economy which has seen it climb the table to the 7th largest in the world (Source: economy watch).
Loxley McKenzie, Managing Director of Colordarcy.com says "For a Brazilian, in common with most people in the world, owing your own home is a crucial step towards the feeling that you have arrived. It is even more crucial for your average working class Brazilian who wants to get married and have something to offer their partner in terms of home comforts."
Minha Casa, Minha Vida was launched in 2009 with the aim to build 1 million properties for taxi drivers, nurses and all those other working class people who had no hope of buying their own place.
This target was reached before the end of 2010, however last year, the government decided to build another 2 million properties with 400,000 of them in Natal to satisfy a waiting list of 50,000 people.
This will cost the government in excess of R$71 billion a sum that is heavily subsidised by the Brazilian Government through La Caixa Economica Federal Bank.
McKenzie added "I doubt that demand for these kinds of properties will go away anytime soon – as more and more people aspire to own their own homes and property prices continue to rise this year.
Cities like Natal in Brazil are growing rapidly and with Brazil hosting the World Cup in 2014 and the Olympics in 2016, we will see another major boost to the local and National economy."
For investors this is a way into the Brazilian market that is very simple to understand according to Colordarcy.com. There are no bubbles as the price of property is fixed at a level people can afford and homes are sold only to those in the local community.
There is also a ready-made client base that will buy a product accessible to their budget. According to Colordarcy.com, this is a hands free investment with typical guaranteed annual returns at 24% over 24 months.
McKenzie continued "In my opinion this is seriously exciting investment with some serious returns for those who invest in these types of projects. You also get to make a difference to people's lives and profit at the same time."
Click here to review our Minha Casa, Minha Vida Guaranteed Investment.
Notes to the editor:
Colordarcy is a leading property investment company that specialises in finding positive cash flow investment properties worldwide. Colordarcy investment property portfolio includes some of the best properties for sale in Atlanta, Brazil, Florida, Turkey and the United Kingdom.
For more information, supporting pictures or logo artwork, please contact:
Steve Billing
PR Manager
Tel: +44 (0) 207 100 2393
Email: press(at)colordarcy(dot)com
Web: http://www.colordarcy.com/