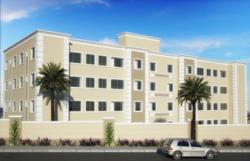 As an investor, if I could build a time machine and transport myself back to the UK in 1980 I would be buying up as much property as I could - a similar opportunity exists in Brazil today
(PRWEB UK) 29 July 2012
Colordarcy.com highlight that the affirmation of Caixa's national ratings by Fitch is due to a large extent to the support the bank gets from federal government parent, the Uniao Federal.
This means that the probability of the Brazilian government stepping in and supporting Caixa is high, particularly as government initiatives such as Minha Casa Minha Vida are such an important part of future planning say analysts at Colordarcy.com.
Minha Casa Minha Vida offers property investors an opportunity to see a 24% guaranteed return in just 24 months with investments starting at £50,000
Loxley McKenzie, Managing Director of Colordarcy commented, "As an investor, if I could build a time machine and transport myself back to the UK in 1980 I would be buying up as much property as I could - a similar opportunity exists in Brazil today.
People are suddenly able to get themselves on the property who might otherwise have not been able to afford it.
Back in the early 80s in the UK, people could only dream about owning their own homes, unless they were fairly well off, until a government initiative came along to help raise living standards.
No doubt 30 years from now investors will be saying the same about Minha Casa Minha Vida, or Brazil's initiative to encourage ordinary people to own their own homes by offering them at prices they can afford.
This gives investors a similar once in a lifetime opportunity to invest in a market that can only grow. In fact the government backed scheme has been running since 2009 and the signs are that investment is still gathering pace."
People who could not previously afford to buy a property are now being given the means to do so, particularly in hotspot Minha Casa Minha Vida cities like Natal according to Colordarcy.
If investors can imagine investing in Britain back in those early days and what that investment would be worth now – it is easy to see what an effect Minha Casa, Minha Vida will have on the growth of Brazil's property investment market, both now and in the future.
Home ownership in the UK grew from 55% of the population in 1980 to 64% by 1987 and 67% by 1990 (Source: ONS). If Minha Casa Minha Vida has a similar impact on the Brazil property market, there could be a decade of growth for investors to look forward to.
Notes to the editor:
Colordarcy is a leading property investment company that specialises in finding positive cash flow investment properties worldwide. Colordarcy investment property portfolio includes some of the best properties for sale in Brazil, Florida, Turkey and the United Kingdom.
For more information, supporting pictures or logo artwork, please contact:
Steve Billing
PR Manager
Tel: +44 (0) 207 100 2393
Email: press(at)colordarcy(dot)com
Web: http://www.colordarcy.com/