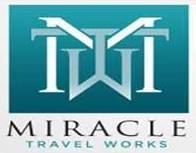 "Thank you so much Miracle Travel Works! It is such a relief to know that if we do need to stay after the surgery that we will be able to. HUGS to you and your entire organization." Lesley Rodgers
Cincinnati, Ohio (PRWEB) August 27, 2012
What
Join more than 200 local Cincinnati community members for the Miracle Travel Works Fall Fling annual fundraiser. It promises to be a fun night with food and drinks and socializing. Live music will be provided by the cover band More Cowbell (http://www.morecowbellband.com). Plus, event attendees have the opportunity to participate in a silent auction with items donated from local merchants like Organized Living and Proforma Albrecht. 100% of proceeds, including those from ticket sales, go directly towards furthering their cause and helping those in need. Tickets are only $25 each. Elite tickets are available for $40 each and include a parting gift. Both options can be purchased online now at http://miracletravelworks.org/Cincy2012.html.
When
7 p.m., Saturday, October 13, 2012
Where
6581 Pepperell Lane
Cincinnati, OH 45236
Why
Did you know that in April of this year, Cincinnati Children's Hospital had received 600 requests for help to get sick children there with the support of their families, yet they were only able to help half of them? Three hundred families were turned away. This is just one example of the need for organizations like Miracle Travel Works. We help families get the specialized medical care that they need and the funds that they need on so many levels – to be there with their children for support and to avoid losing their jobs.
About Miracle Travel Works
Miracle Travel Works (miracletravelworks.com) is a small but growing organization of friends and family members, all working and donating time entirely for free. After witnessing firsthand the financial difficulties of medical expenses for children with terminal and chronic illnesses, and the travel involved, Miracle Travel Works was formed to make a bigger contribution to help those families in need of assistance. They believe that every child should get the best available treatment to put them on the path to better health and that parents should have the opportunity to be there with them through it all.
Media Contact
Jennifer Castenson, Board Member, Marketing
513-532-8126
jcastenson(at)schultestorage(dot)com