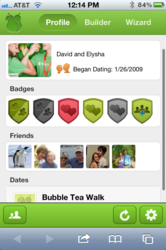 PearHaven's mobile site was created to help couples share and find date ideas on- the- go.
Austin, TX (PRWEB) May 10, 2012
Internet access is becoming increasingly mobile with the rise of smartphones, making the idea of taking the time to boot up a laptop or desktop just to access a social website laborious. Everything is steadily converting to a mobile format, even the idea of the laptop itself encompasses the idea of transporting data easily on-the-go. PearHaven adapts to this surge of mobile use by creating a mobile site where couples can sign up, log in, create a date and access many features of the site including their profile, the date builder which records dates and the date wizard that finds new date ideas.
Statistics compiled by Mobile Marketer in the article "Must-Have Stats for 2011" written by Gabrielle Kalika, shows that the world is gradually converting to mobile sites, stating that "more smartphones [were] bought in the U.S. than PCs" in 2011. Individuals are more likely to use a site if it is available on a smartphone, since it is easier to access something that is already in the palm of your hand. Ultimately, the result of having a mobile site means more engaged users.
By creating a mobile site, PearHaven allows couples to record dates, check out date ideas provided by other couples, see what dates their friends have been on and even build future dates, all on their smartphone. Additionally, the mobile site can use the couple's location, taking advantage of the abilities of smartphones, either by GPS or zip code, so that recording a date is easy.
Pearhaven's mobile site is designed to be very simple to use. Just open the phone's browser and go to PearHaven.com; users don't have to deal with the app store. David Lackey, PearHaven's founder, stated, "Our goal was to have an uncluttered display for the couple's home page, single-click buttons for navigation around the mobile site, automatic GPS or zip code navigation, and an organized selection menu for the date wizard." With everything going mobile, launching this intuitive mobile site can help couples on-the-go record their cherished memories.
PearHaven is about couples' relationships and uses different features to keep couples romantically involved  with each other.  The website provides the Date Wizard which suggests and maps out new date ideas. The website also offers a fun game-like design called gamification where couples are rewarded achievement badges for their  date experiences such as going on dates in different locales or connecting with other couples by recording group or double dates with friends. While similar to Foursquare which unlocks badges  for individuals visiting new or unique places, PearHaven is for couples' experiences. With more options of competitive or game-like available to earn achievement badges, a place to share memories and photos, PearHaven couples have a place where they can enrich their dating experiences and strengthen their relationships.
About PearHaven
PearHaven.com, a social website with free sign-ups for people of all ages who are dating, engaged or married to record their dating experiences, connect with other couples, share photos and earn achievement badges for trying new date ideas. PearHaven.com provides new date ideas and maps them out through its Date Wizard. PearHaven.com was founded by David Lackey, a student at Princeton University.