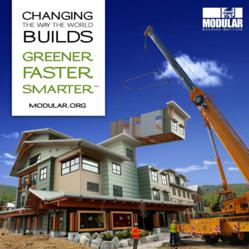 (PRWEB) November 29, 2012
The Modular Building Institute, the international trade association serving commercial modular construction, is accepting submissions for presentations to be given at World of Modular. The 2013 annual convention and tradeshow will be held in Scottsdale, Arizona, USA, from March 16-19.
The largest event dedicated to commercial modular construction, World of Modular draws industry professionals from around the world to engage in networking, education, product display and recognition. The 2013 show will mark the 30th Anniversary of the event.
Presentations may cover any topic of interest to the modular building community, including project case studies, innovative construction methods or products, construction automation, green building and sustainability, market drivers, increasing productivity, integrating modular and traditional construction, research and development, modular building best practices, federal construction, business management, use of technology, collaboration, safety and more.
Submissions should include a suggested title, brief description, estimated length, and presenter contact information, and should be sent to Steven Williams at steven(at)modular(dot)org by December 7, 2012.
World of Modular is an open forum for anyone interested in the modular construction industry. Exhibitors include suppliers of building products, services and financing, who wish to reach manufacturers and dealers of modular buildings. Attendees include developers, manufacturers, fleet owners, architects and general contractors.
About MBI
The Modular Building Institute (MBI) is the international nonprofit trade association serving the modular construction industry. Members are suppliers, manufacturers and contractors involved in all aspects of modular projects -- from complex multistory solutions to temporary accommodations. As the voice of commercial modular construction, MBI expands the use of off-site construction through innovative construction practices, outreach, education to the construction community and customers, and recognition of high-quality modular designs and facilities. For more information on modular construction, visit http://www.modular.org.