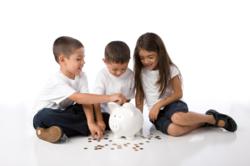 Los Angeles, CA (PRWEB) August 10, 2012
The NFEC's money management for kids program launches this August. This addition to the NFEC's financial education resources is included as a part the 'Financial EduNation Life Stages' curriculum. This addition rounds out the other NFEC coursework offerings which include material for younger children, teens and adults.
The latest financial literacy curriculum is designed around the NFEC's financial education standards and incorporates the latest project based learning (PBL) techniques. The objective of this coursework is to teach children about money and help them to form positive financial habits at a young age.
"Teaching kids about money when they are young is vital. We call on parents, educators and those that care about the future of our youth and the country as a whole to share this material with children," states Vince Shorb of the National Financial Educators Council.
The money management for kids program provides financial literacy curriculum, books, and material for kids in the 3rd to 5th grades. Educators are encouraged to take part in the NFECs' Certified Financial Education Instructor program, which helps educators teach kids about money effectively. The next CFEI class begins in September and offers breakout sessions for those that want to specialize in teaching a variety of age groups.
The money management for kid's coursework was developed in a similar manner to material offered to younger children, middle school, teens and adults – a team of financial professional, educators and personal finance experts collaborated to create material that can have a lasting impact on their lives. Past years Curriculum Advisory Board were instrumental in the development of material which has been described as engaging and fun.
The National Financial Educators Council (NFEC) provides financial education solutions to individuals, schools, businesses, families, government, and nonprofit organizations around the globe to improve financial literacy. The NFEC's Financial EduNation campaign is a national financial literacy initiative that seeks to improve youth financial capability while raising awareness about the importance of teaching kids about money.