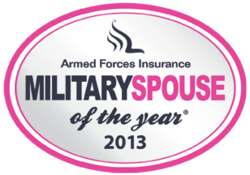 "Military spouses have been carrying an especially heavy burden during these last eleven years of war and deserve every recognition for their contributions on the home front.," said Lt. General Gary L. Parks, U.S. Marine Corps (Retired), Chairman AFI
Pittsburgh, PA (PRWEB) November 19, 2012
Military Spouse magazine opened nominations for the 2013 Armed Forces Insurance Military Spouse of the Year® (MSOY) award. Now in its sixth year, the award honors military spouses from all branches of service and all ranks.
The award recognizes the force behind our nation's service members: military spouses. Military Spouses make a difference every day and in a million different ways. From supporting the home front and our service members to advocating for military families and leading change, these men and women are making important contributions.
Military Spouse magazine is excited to introduce an expansion to the installation level for this year's award. Nominations will be collected and aggregated at the base (Air Force, Army, Marine Corps, Navy), district (Coast Guard), and state level (National Guard). For the first time, an installation level winner will be recognized at each United States military installation that submits nominations.
"Military spouses have given so much. I am constantly impressed by the contributions of these amazing men and women," says Kate Meeuf, Brand Director for Military Spouse magazine, "We want to ensure they receive the recognition they deserve, which is why we added the installation level to this year's award."
"Armed Forces Insurance is proud to sponsor the MSOY award and the recognition that is given to military spouses through this competition," said Lieutenant General Garry L. Parks, U.S. Marine Corps (Retired), Chairman, AFI. "Military spouses have been carrying an especially heavy burden during these last eleven years of war and deserve every recognition for their contributions on the home front."
A nominee must be the spouse of a current member of the U.S. Armed Forces. Criteria used for selecting the recipient include contributions to community change, volunteer efforts, personal sacrifice, professional pursuits and specific efforts to support the military community. If nominated, military spouses can also submit an issue that is impacting the military community and a recommendation for how they would like to influence change in this area.
Nominations can be submitted at msoy.militaryspouse.com through January 4th. The installation, state, and district winners will be selected via an online vote on January 22nd. Six branch level winners will be selected from the installation level winners in a subsequent online vote on February 5th. These six finalists will be considered for the 2013 Armed Forces Insurance Military Spouse of the Year® award. The winner will be announced on May 9th 2013 at the awards luncheon in Washington D.C.
About Military Spouse
Military Spouse magazine and http://www.militaryspouse.com are the leading national magazine and online destination for the nation's 1.1 million current and 20 million former military spouses. Follow us on Facebook at http://www.facebook.com/militaryspousemagazine and on twitter@milspousemag.
About Military Spouse of the Year®
The Military Spouse of the Year® (MSOY) is the only national merit-based award that recognizes the nation's current military spouses. In its sixth year, the award has garnered national media attention for the winners, including appearances on NBC Nightly News, Good Morning America, Fox and Friends, CNN and scores of other national, regional and local media outlets.
About Armed Forces Insurance
AFI was founded in 1887 by military leaders with a single mission: to protect the property of those who protect our nation. The company provides premium quality, competitively priced property and casualty insurance to military professionals throughout the United States and overseas. AFI understands that its members have unique circumstances and insurance needs, enabling the company to offer a level of personalized service that's unequaled in the industry. For more information, visit the website at http://www.afi.org or call 1-800-495-8234.
# # #
For further information or to arrange interviews contact:
BP Media Relations:
Barbara Pflughaupt, 212-707-8181 or Judee Cohen, 917-721-0663