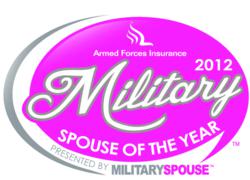 "All Americans should cast votes for the spouse they feel will best lead the entire military spouse community," said Babette Maxwell, Military Spouse magazine founder and executive editor
Pittsburgh, PA (PRWEB) February 13, 2012
The votes have been tallied and the six branch winners of the 2012 Armed Forces Insurance's Military Spouse of the Year presented by Military Spouse Magazine have been selected. The 2012 branch winners are:

Air Force, Jeremy Hilton of Burke, Virginia
Army, El Brown of Monterey, California
Coast Guard, Jennifer Bassett of Astoria, Oregon
Marine Corps, Stephanie Geraghty of Jacksonville, NC
Navy, Erin Strasburger of Virginia Beach, VA
National Guard, Christine Gilbreath of Crowley, Texas
The finalists for this award were selected through an online vote open to all Americans. Learn more about the individual Branch Winners at http://www.milspouse.com/msoy. The final round of voting for the 2012 Military Spouse of the Year will commence on February 14th and end on March 5th after which the overall winner for 2012 will be selected and announced.
"Each of our six branch winners are standout candidates and could easily win the Military Spouse of the Year title," said Babette Maxwell, Military Spouse magazine founder and executive editor. "All Americans should cast votes for the spouse they feel will best lead the entire military spouse community." Voters can view the finalists' profiles and video submissions at http://www.milspouse.com/msoy.
The overall 2012 Military Spouse of the Year (MSOY) winner will be announced at the fifth annual MSOY Awards Ceremony in Washington, D.C. The ceremony will be held on May 10 at 8th & I, the U.S. Marine Corps' oldest active post, home of General Amos, Commandant of the U.S. Marine Corps, and the historic site of the Marine Corps' evening parades.
In 2011, the MSOY Awards were honored by the attendance of Senator Kay Hagan (D-N.C.), Senator Richard Burr (R-N.C.), Congresswoman Cathy McMorris Rodgers (R-Wa.), Medal of Honor Recipient Major Drew Dix and the spouses of all 10 senior officers and senior enlisted in every service branch. 2011 also marked the first year the Gabriel Giffords Award for Courage was announced and will be an annual part of the MSOY Awards ceremony.
The Military Spouse of the Year represents the millions of past and present military spouses who continue to thrive in a wartime environment, dedicate their lives and families to service of a grateful nation and give back to a community in need.
"As America's warriors have honorably served our nation this past 10 years in deployment after deployment, military spouses have dutifully served here at home," said Lieutenant General Garry L. Parks (U.S. Marine Corps, Ret.), Chairman of Armed Forces Insurance (AFI). "AFI is delighted to once again sponsor the Military Spouse of the Year Award, which appropriately recognizes both their personal sacrifices and overall contributions to military families and units that span the world."
About Military Spouse
Military Spouse magazine and http://www.milspouse.com, published by Victory Media, is the leading national magazine and online destination for the nation's 1.1 million military spouses. You can follow us on Facebook and on Twitter @MilSpouseMag. The company also publishes G.I. Jobs magazine and Vetrepreneur (http://www.navoba.com) magazine, and has created the Buy Veteran movement (http://www.buyveteran.com) powered by NaVOBA.
About Armed Forces Insurance
AFI was founded in 1887 by military leaders with a single mission: to protect the property of those who protect our nation. The company provides premium quality, competitively-priced property and casualty insurance to military professionals throughout the United States and overseas. AFI understands that military members have unique circumstances and insurance needs, enabling the company to offer a level of personalized service that's unequaled in the industry. For more information, visit the website at http://www.afi.org or call 1-800-495-8234.
For more information or to arrange interviews, contact:
BP Media Relations, LLC
Barbara Pflughaupt – 212-707-8181
Judee Cohen – 917-721-0663
# # #