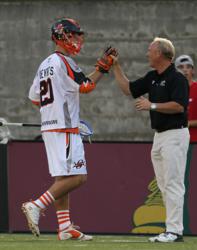 MVP is one of the premier exposure/recruiting tournaments of the summer.
Skillman, NJ (PRWEB) August 15, 2012
Jim Stagnitta, founder of MVP LLC, announced a partnership today with Blue Hen Lacrosse and owner Bob Schillinglaw, Head Coach at the University of Delaware.
The MVP 1 Team Tournament will be held on Father's Day weekend (June 14-16) 2013 at the University of Delaware along with the First State Shootout Youth Tournament.
"I am very pleased to announce this partnership with Bob Schillinglaw. We worked together this summer on the First State Shootout which was very successful in is initial year. MVP is one of the premier exposure/recruiting tournaments of the summer. The opportunity to bring MVP 1 to the University of Delaware and to work with the Blue Hen staff is another step in providing the best opportunity we can for high school level lacrosse clubs and teams to be seen by college coaches while competing in a very competitive tournament. The University of Delaware provides MVP a second centrally located venue and one of the top athletic facilities in the mid-Atlantic. Bob and Greg bring a wealth of experience in running tournaments and will play a big part in MVP continuing to be one of the premier exposure events of the summer. This will be a nice complement to MVP 2 which will continue to be held at Rider University in Lawrenceville, NJ." States Jim Stagnitta
Jim Stagnitta founded MVP LLC in 1999. Recently hired as a coach of Major League Lacrosse Denver Outlaws Team after spending the past 10 years as the head coach of Rutgers University. Prior to coaching at Rutgers, Stagnitta was the head coach at Washington and Lee University for 12 seasons (1990-2001) and spent three seasons (1987-1989) as an assistant coach at his Alma matter, the University of Pennsylvania. During his collegiate coaching career, Stagnitta has compiled an overall record of 194-124 (.610 pct.) and has led his team to seven NCAA Tournament berths and two Final Four appearances.
MVP Team tournaments draw over 50 of the top club and high school teams in each of their 2 annual summer and fall exposure events. These teams are seen by upwards of 150 college coaches per event.
For more information please visit http://www.mvplaxcamps.com or email jstag@mvplaxcamps.com