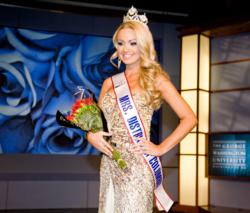 (PRWEB) April 02, 2012
The National Financial Educators Council announces Arika Burton, 2012 Mrs. DC America and Mrs. America contestant, as their National Ambassador. Mrs. Burton chose financial literacy as her platform. She raised awareness about the movement during her Mrs. DC America competition and will bring national attention to the financial literacy movement as she competes in the 2012 Mrs. America Pageant.
Mrs. Arika Burton is a 28-year old financial consultant in the DC metro area that received her Bachelor's degree from the University of Maryland in both Finance and International Business. Mrs. Burton has also completed the International Finance and European Union Study Program. Through her studies and outreach, she recognized the need and importance of teaching people about personal financial matters.
Arika chose financial awareness as her community platform because it aligns with her passion and expertise. She has been actively involved with the National Financial Educators Council to raise awareness and improve financial literacy among people of all ages, with a special focus on high school students.
"Arika's passion for financial literacy was apparent on her initial call to us, and we welcome her role as a National Ambassador. Her commitment to the financial literacy movement will help us continue to combat the financial illiteracy epidemic that is sweeping the country. Together we can help people overcome the financial challenges many face today and hopefully help many of today's youth avoid common financial pitfalls entirely," states Vince Shorb, CMO of the National Financial Educators Council.
"Becoming Mrs. DC America is an honor, and I am appreciative of the opportunity to reach a wider audience with my platform of raising awareness for financial literacy. This is a cause I am passionate about, and it is great to work with the National Financial Educators Council because they are as committed to the cause as I am," states Arika Burton, Mrs. DC America 2012.
Over the course of the year, Mrs. Burton plans on reaching people across the country with the message of financial literacy. Her stated goal is to help raise awareness for the overall movement while motivating individuals to pick up the practical personal financial lessons that can benefit the individual, those they love and their communities.
Raquel Riley Thomas, executive producer of Mrs. DC America, states, "As an entrepreneur I understand the value of forming collaborative partnerships, especially when done for the social good. I am especially pleased to see that Arika and the National Financial Educators Councils partnered because raising awareness about financial literacy can improve the lives of those they touch across the country. That is what being Mrs. DC America is about – helping those in our community gain the skills they need to live their own personal American Dream."
The NFEC is a social enterprise organization, and their commitment is to improve the financial capability of people around the world. The NFEC partners with celebrities and positive influential role models to raise awareness for the financial literacy movement. The NFECs' Financial EduNation Campaign provides financial literacy videos, resources, tools and training to assist schools and non-profit organizations to share the message of financial literacy with people in their community.