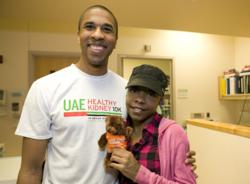 Los Angeles, CA (PRWEB) April 16, 2012
The National Financial Educators Council (NFEC) honors Jon Rankin as their National Ambassador. Mr. Rankin is a professional and Olympic distance runner that was named an alternate for the 2008 US Olympic team in Track & Field. As he trains for the 2012 Olympics, Jon also joins the NFEC National Financial Literacy Ambassador team and promotes the philosophy of Go Be More.
After the 2008 Olympic Games, Mr. Rankin spent several years away from track and field to find perspective on his life's journey. During his time away from the sport of running he underwent a kidney biopsy which revealed he had a terminal disease known as focal segmental glomerulosclerosis or FSGS. With this discovery he has gained a more clear understanding of how short life really is and that he must take every remaining chance to realize the dreams he has for his life. During his journey to the 2012 summer Olympic Games he has chosen to share this discovery with others. Sharing this message has become his life's purpose. Having this purpose has re-energized his desire to accomplish his Olympic dream of winning gold in the 1500 meters--something he has dreamed about since the age of 15.
Mr. Rankin chose to work with the NFEC and promote financial literacy because it relates to his overall mission of inspiring people to achieve their highest potential. He noted that, "Time is one of the most important elements of a person's life. Sadly many people are spending their time working jobs they aren't passionate about. I chose to be an advocate for the financial literacy movement because money management is an important aspect in being able to effectively manage ones time. By learning and applying time-tested personal finance lessons, it frees people to spend their time following their passions. It gives them the freedom of time to Go Be More."
"Jon's passion for helping people achieve their highest potential was obvious on our first conversation, and we welcome his role as National Ambassador. His dedication to help raise awareness and inspire others to pick up essential money management lessons can have a lasting impact on those he reaches. Besides Jon's celebrity status he is a powerful speaker that has the ability to inspire millions globally. The NFEC is honored to have Jon as a national spokesperson for the financial literacy movement," states Vince Shorb, Chief Marketing Officer of the NFEC.
Jon Rankin founded Go Be More to celebrate our hunger, as human beings, to keep growing as individuals and progressing as a global society. Mr. Rankin and Go Be More support nonprofit and social enterprise organizations which include the National Kidney Foundation and The Run Project, LLC.
The NFEC is a social enterprise organization, and they partner with community influencers to improve the financial capability of people around the world. The NFEC has supported over one-hundred nonprofit organizations to help them achieve their organizational objectives while raising awareness for the financial literacy movement. The NFECs' Financial EduNation Campaign provides financial literacy resources assist nonprofit organizations and schools share the message of financial literacy with people in their community. The NFEC also encourages individual's to support the nonprofit groups that Jon Rankin backs – the National Kidney Foundation.