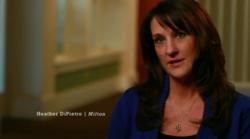 Troy, NY (PRWEB) August 28, 2012
Healthcare marketing agency Smith & Jones announced today its receipt of a 2012 Aster Award for its work on Ellis Medicine's 2011 Neuroscience campaign, Head2Toe Conversations. The campaign's "Heather" web video was declared a silver winner in the special video production category for the 300-499 bed hospital group.
The Aster Awards is a medical marketing awards program that recognizes excellence in healthcare marketing and advertising among similarly sized competitors from across the nation and world. It is hosted by Creative Images, Inc., an internationally recognized firm that has specialized in strategic healthcare marketing for more than 20 years.
The web video features one of Ellis Medicine's neurology patients, Heather DiPietro from Milton, NY. She suffered from a stroke, but was given a medicine called tPA (tissue plasminogen activator) that stopped the stroke and may have saved her life. Because of the care she received she had the opportunity to be with her mother during her last few weeks of life and is able to care for her own daughters once again. Today, Heather is an advocate for the hospital system and attends foundation events to share her story.
"It is great to be recognized by such a well-known awards competition, but the real reward from working on this campaign was the ability to share Heather's story and to see its effects on the hospital employees and community," said Mark Shipley, Chief Strategic Officer of Smith & Jones.
This long-form video appeared on Video-On-Demand, on the Ellis Medicine web site, in rich media banner advertisements, at community meetings and presentations to secure donors, and at quarterly management meetings to motivate and align staff around the hospital mission.
To learn more about Ellis Medicine and to view the winning video, please visit smithandjones.com.
About Ellis Medicine
The Ellis Medicine hospital system provides acute care for Schenectady County and a diverse community of 150,000 people located just west of the state capital in upstate New York. Learn more at http://www.ellismedicine.org
About Smith & Jones
Smith & Jones is an advertising and brand strategy agency based in Troy, NY, that specializes in marketing for hospital systems and large physician practices. Learn more at http://www.smithandjones.com.